Rev Peter Unger looks for the silver lining on the contemplative "Storm Clouds In the Sky". He sings with such grace and patience, for his lyrics are ones that have a timeless classic cadence about them. A deft mixture of folk, gospel, and country filter into the soothing lovely sound. The attention to detail means that every gesture, is given such importance, for he lets this song ring out with a tremendous amount of truth. Every line is weighted for maximum impact for they are the true stars. Punctuated only by the power of his guitar and the occasional second voice, the way it unfurls has a warm inviting presence to it all even as it tackles much harder truths.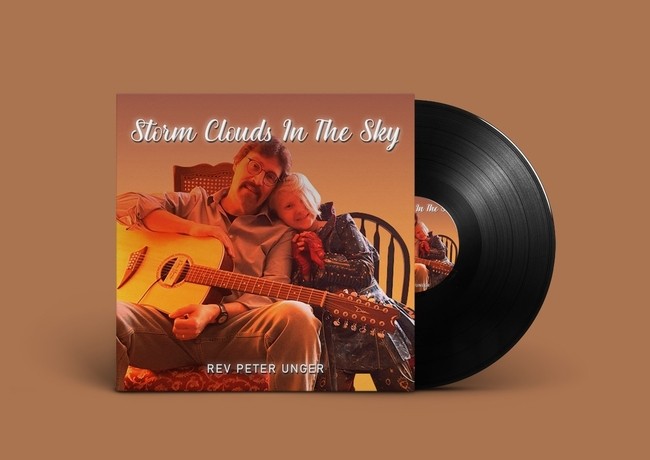 Graceful glides of the guitar introduce the piece and set the atmosphere for what follows. His explanation to his child about what has happened goes for an interesting mixture of faith in a better future alongside the doubt that inevitability is a part of life. Even with the happiest of intentions and the greatest degree of optimism, there is always doubt that maybe things will not turn out so rosy. Such pessimism can be difficult to unpack, and the way he balances the way things should be versus the way things are is masterful, even poetic to behold.
"Storm Clouds In the Sky" revels in Rev Peter Unger's thoughtful storytelling, one that brings together the past, the present, and the future all while remaining firmly rooted in the hope that faith brings.
@skopemag: Where are we talking from today and how is 2021 coming so far?
With Covid still raging, and our nation divided meeting such challenges in 2021 will be an uphill struggle, but as a person of faith, I believe the One we call God, and our creator, has inroads to the higher nature of most of us that are often beyond our consciousness and understanding.
@skopemag: Where are we talking from today and how is 2021 coming so far?
As a retired pastor I am restricted to doing ministry online, and primarily through music. My only music goals are to keep writing songs that offer some hope, comfort, and occasionally, as with the current song, a prod.. I share these songs for free online.
@skopemag: So talk about 'Storm Clouds In The Sky' – and what inspired the song and where did you write & record the music?
My wife and I watch our granddaughters regularly. I was watching the news recently through some of the most historical and tumultuous days of our democracy. One of my granddaughters was playing the in background. At one point she had some questions about what was going on. This was exacerbated by political divisions within the family. "Storm Clouds in the Sky" grew out of this exchange. I recorded the song at a friend's studio. As my granddaughter sings along with the chorus I framed the song for her. I told her things were not so bleak for the future, but that I wanted to raise awareness, in some small way, that our actions now as Americans will pay dividends for future generations.
@skopemag: I think people will like to hear about how your granddaughter inspired and sang on this beautiful song and will she carry on the Unger family passion for music?
Grace loves to sing and play the guitar. We often sing and play the guitar together. The other two granddaughters, both under eight, love music as well. My great grandfather was a band leader, and my mother studied to be an opera singer. It feels great to continues sharing a love of music through the generations.
@skopemag: As a Reverend – can you speak on the times briefly and how we can keep going against all the good & bad that the world brings?
As a Christian and pastor my perspective on the times were living through are informed by my faith. The highest possible human principle and value is love. Love of God and neighbor in a more inclusive, non-legalistic, and undogmatic way than some Christians understand it, is also the highest commandment in Scripture. This value must once again become pervasive in our society for us to overcome all that divides us and once again unite as Americans.