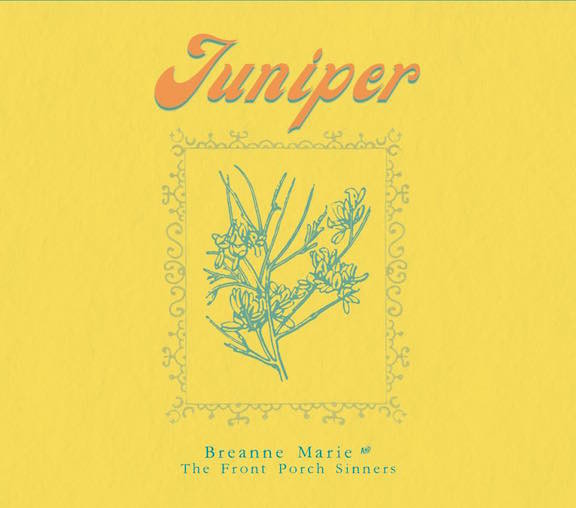 Although Breanne Marie began as a solo artist, Juniper is an album with her six-piece band, The Front Porch Sinners. While this is a band effort, it nevertheless features the same sort of introspective songwriting as found on Marie's band-less recordings. The act plays what's called 'Great Lakes country music,' which has been described as "an alt.country sound using classic country instruments mixed with lyrics that speak to the hard times and natural beauty of rust belt communities like Duluth, MN."
Marie sings these nine songs with a tender, fragile (but always sincere) voice. One track, titled "Too Tired To Cry," prominently features fiddle accompaniment and is built upon a gently thumping beat. Thankfully, this fine fiddling is found throughout. "Dead Man Walking" distinguishes itself from the album's other songs, in that it includes a fairly rocking electric guitar groove. It also sports a trumpet part running through it. It has a sort of Appalachia-meets-gypsy-music feel.
– https://soundcloud.com/user-932371686/sets/juniper/s-RvUOAJSGq8u
The album opens with a relatively upbeat track called "Central Hillside." Unlike much of the rest of this album, it's also a song you can dance to. It's built on a two-step beat and features sprightly fiddling from start to finish. Marie sounds enthused and energetic all the way through the track. The very next song is the absolute opposite, however. Appropriately titled "Hard Time," this one is slow and mournful. Instead of a beat you can move your feet to, Marie sings about life's struggles over a plodding piano arrangement. Marie vocalizes with a hurtful tone in her voice. This recording's electric guitar solo serves to amplify the songs overall sadness.
Breanne Marie & The Front Porch Sinners' music exists outside – seemingly far outside – mainstream country music. These songs may sound foreign and antiquated to those overly saturated in what Nashville considers to be country music these days. So much radio music is little more than pop and rock music, with a touch of country instrumentation tacked onto it. While Mare has certainly listened to her share of modern sounds, she attaches her contemporary and relevant lyrics onto traditional country sounds. "Turning Stones," for example, features plenty of fiddle and pedal steel guitar, not as a production afterthought, but as the song's very foundation. Marie can transition from the full band sound of "Turning Stones," to more intimate and sparse recordings, like "Love is a Song."
https://www.instagram.com/thefrontporchsinners/
While much of Juniper is sad and a little depressed, a lot like a cold Minnesota night, Marie never sounds hopeless. Instead, she comes off as a resilient fighter, one who vows never to let difficult circumstances defeat her. One earlier solo effort featured songs that addressed her father's suicide. Surviving the suicide of your father is something that can scar you for life. These songs feature a woman who is still able to find joy and good reason to keep carrying on. There's something about this album's traditional instrumentation that just makes her songs come out all the more sincere. Much like a homecooked meal, this production gives these nine songs that essential personal touch. Juniper is a tree with deep, beautiful roots.
-Dan MacIntosh