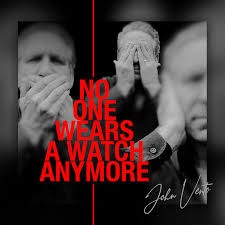 Ramshackle and truly rambunctious, John Vento's classic cadence of "No One Wears A Watch Anymore" stuns with its tremendous force of nature quality. John mixes the blues, country, and rock into a swaggering, singular whole. By far the heart of the track comes from his powerful commanding voice that serves as the true focal point. Instrumentation too delves into some gorgeous rustic emphasis in particular on the power of that guitar work, which has a feral wild energy to it one that draws the listener into a chaotic world. Volume is an absolute must for the way that the song hits demand it. References abound within the sound, in particular of Lambchop's freewheeling orchestral chamber country.
The rustic presence of the riff opens the track on a high note. With a guitar that truly sings, the whole of the track opts for a sense of freewheeling defiance. Every rhythm here is reinforced with a tremendous amount of passion. Lyrics further highlight this point for there is a careful poetry in how they effortlessly merge together to bring the listener on this unexpected journey. Buildup of the track further has a cinematic beauty, with every single flourish of the sound radiating out into the seemingly infinite. For the final stretch they completely let loose as the track bursts at the seams.
John Vento crafts pure fire with the Americana of "No One Wears A Watch Anymore".