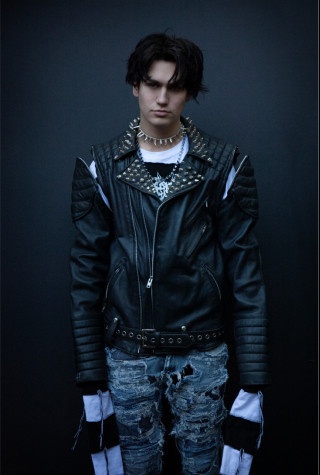 Singer, songwriter and brand-new Immersive/Geffen Records signing LILHUDDY (aka Chase Hudson) releases his first official single entitled "21st Century Vampire," which is out now along with the music video. Fresh off the heels of starring in Machine Gun Kelly's first-of-its-kind musical film experience Downfalls High, LILHUDDY is making his musical introduction with a signature style cultivated by the raw and restless angst of post-internet era adolescence. His music is a perfect hybrid of pop, punk, and alternative with an underlying message encouraging authenticity and self-acceptance. "21st Century Vampire" serves as a metaphor for the punks and outcasts who need a place to fit in and was co-written by Chase along with Nick Long, Jake Torrey and Andy Selzter. The track is available now at all digital retail providers via Immersive/Geffen Records.
Photo Credit: Damon Baker
LILHUDDY says, "It's okay to be different. That's the message I'm relaying. In a lot of ways, I'm a very misunderstood kid too. People don't know the whole story or who I really am. I've always wanted to be my full self. Music is my way to finally show them."
– https://smarturl.it/21stCenturyVampire
The "21st Century Vampire" music video, which was directed by the famed Joseph Kahn, features Chase frozen in youth as a vampire in a modern punk world. Bored, outcasted and unable to connect with anyone, the video follows LILHUDDY as he tries to navigate his lonely immortal life. He eventually finds himself on-stage amongst other fellow misfits, unifying them through a performance of the power punk anthem.