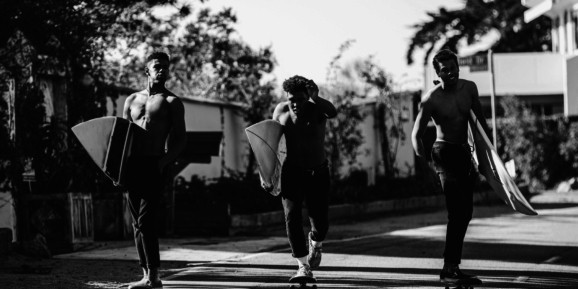 Hello to all out there joining us here @skopemag. It is a new day – a new president & vice-president in the USA – we never get political @skopemag – but we hope for the best for the USA and hope to see live music venues open again soon. Now back to the music as we have a really cool group of brothers from southern California by the name of We The Commas. The guys have taken some time from the beaches to release their debut SARB EP release with new single "The RZN" out now. Join us as we talk about being family in music, life in beautiful San Diego, the powerful message behind 'The RZN' and so much more!
@skopemag – Where are we talking from today and how is 2021 going so far?
Lenny: We are here in San Diego California! 2021 has been pretty great so far, we just had a super fun live stream performance with a streaming site called bands in town and we're continuing to work on finishing up our first album, which will hopefully be out in late March.
@skopemag: Offer us brief history of how We the Commas came together and how did you create the name of the group based off your last name?
Lenny: All three of us brothers have been passionate about music for most of our lives. Our parents are really big music fans and they exposed us to all different types of music, anything from Stevie Wonder to Pearl Jam to Sergio Mendes, so we have been lucky to pull inspiration from a very eclectic mix. We started playing music together about ten years ago and this really taught us how to work as a team and find our sound. It was our greatest desire to put all our time and effort towards being a band and we finally got to a point where we were ready to give a career in music a legitimate shot. The name We the Commas comes from our last name Comma, and the we in the Commas is to represent us wanting to have a connection with each other and the entire world.
@skopemag: Being that you 3 are brothers how supportive have your family been and how is it to work in a creative space with family in general?
Lenny: Our parents have been the most supportive people in our lives. They want us to be successful just as much as we do and we couldn't have done any of this without them. Working on creating music together is an amazing experience. We all have different strengths and we rely on each other and each other the space to shine in our own way, so that the band can be the best it can be.
@skopemag: I love the beach vibes on your site – what was life like growing up in Carlsbad, California and how did that influence your sound?
Lenny: We are so lucky to have grown up in north county San Diego . It is a paradise here. We've had so many opportunities to explore whatever we were passionate about and experience so many different people from different backgrounds. This influenced our music by teaching us that our sound can be dynamic and it doesn't have to fit into any one genre.
@skopemag: You obviously love to surf – how does your passion for surfing mix with your passion for music as well?
Lenny: Surfing is a lot like music. The same way that you can express yourself through different sounds and lyrics is the way you express yourself through riding a wave. Every wave is different the same way every song and performance is different. We love surfing so much because it is a passion that is never linked to any pressure of success, it is purely for fun!
@skopemag: You have been very busy with your debut 'SARB EP' and the new single "The RZN" out now – how long has this project been in the works and where did you write / record the music?
Cam: Some of the Songs from SARB have been in the archive for several years. So I guess you could say the project has been in the works for quite some time and was definitely well overdue. With the help of Chris Rosa, we were finally able to fully produce and record the songs within a couple of months, as well as many other songs we have yet to share with the world.
@skopemag: Your video for 'The RZN' is very powerful. Explain how the visuals express the music & meaning of the song?
Jordon: The idea for the video was to create something visually and aesthetically pleasing, while at the same time not having the message of the song be lost in a crazy production. Simplicity was key. We even chose not to wear shoes to distract from the message of the song. Dressing in all black was to show our support and appreciation to our community. We are stoked our message was conveyed in our lyrics and the video accompanied the message.
@skopemag: How much time can you 3 put into music from practice to social media promotions?
Jordon: We are working on new music pretty much every day. Creating music is our favorite experience. We schedule time throughout the week to work on social media and promote our work.
@skopemag: 2021 is a new start for all of us. What are 2-3 music goals that you have for this new year?
Jordon: I don't know that there is 2-3 specific goals, but we have come a long way from June of 2020 when we released our first single "sherry" and we hope to keep inspiring people to follow their dreams and pursue the most authentic version of themselves. We hope to keep growing our fan base steadily and bring joy to people through our music.
@skopemag: When you are consuming music what platform do you use like Amazon, Spotify, Youtube, etc and why?
Jordon: We use all the platforms. They're all dope and offer a variety of different features.
@skopemag: Where can the good people follow / like / stream / your music and keep up to date best?
Band: The good people can find us on all social media platforms @wethecommmas. They can find our music on all music streaming platforms as well @wethecommas –