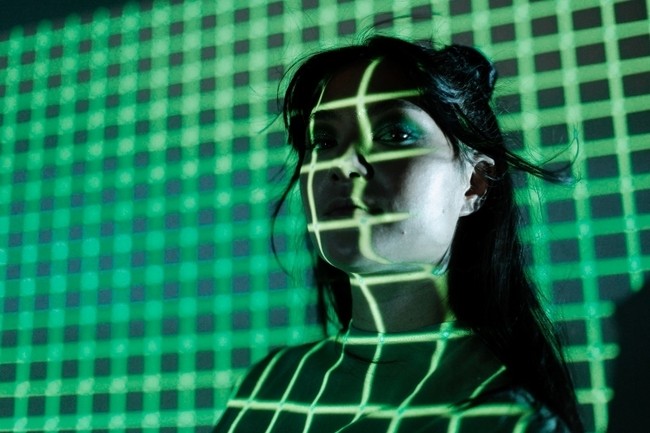 Following a feverish succession of singles and the release of her Cry EP in 2020, the new year sees San Mei (aka Emily Hamilton) dive headfirst into production for her next body of work, taking charge of her creative vision founded by some exciting 'new inspo' – a space between industrial rock and 90s grunge. Arriving today, her new single "In The Machine" was self-produced with long-time studio drummer and collaborator Michael McCartney and sounds like a lost track from the 'Batman Forever' soundtrack or an unreleased single from Garbage. Knarly guitars, gritty synth, and industrial drum programming, pulses away in clever contrast to San Mei's haunting yet ethereal vocals.
– https://sanmei.lnk.to/InTheMachine
Hamilton explains, "Last year was kooky but gave me the chance to get lost down some rabbit holes and find some fresh inspo. I took a bit of a different sonic approach with this song and I thought that using some industrial sounds and having a bit of a mechanical feel would really suit it, which I think we achieved with a lot of the drum patterns and sounds. I still wanted to make sure it felt a bit surreal and dreamy at the same time, so the verb'ed-out vocals and wash of synths were important to include in the track." The production is an outstanding representation of Hamilton's focus and inspiration in 2021, building on her skills as a talented musician, writer, performer, and now producer.
Lyrically, San Mei tackles the concept of being caught up, unwittingly in a scene of ill conclusion. For Hamilton, the song is a reminder not to get stuck in the motions of everyday life and be operating on autopilot, but to keep striving and be who you want to be. She says, "once I stepped back, I realized I wasn't happy with the person I was becoming and that I needed to remember who I was and the goals I had for myself. Growth is really important to me, and sometimes life can wear us down until we're just operating on autopilot, so this song is me telling myself to wake up and get moving."