Stephen Jacques' album cover for Charmed to Death features a picture of four multi-colored, sexy women. They appear – if we're blunt – to be stripper quadruplets. That, or four lookalike Bond girls. Or, then again, a quartet of femme fatales. Who knows? Nevertheless, the project's title track reveals Jacques' sarcasm when he sings on its chorus, "Charm me to death/I need sweet release." Perhaps, that's the only way to go, if we must shed his mortal coil.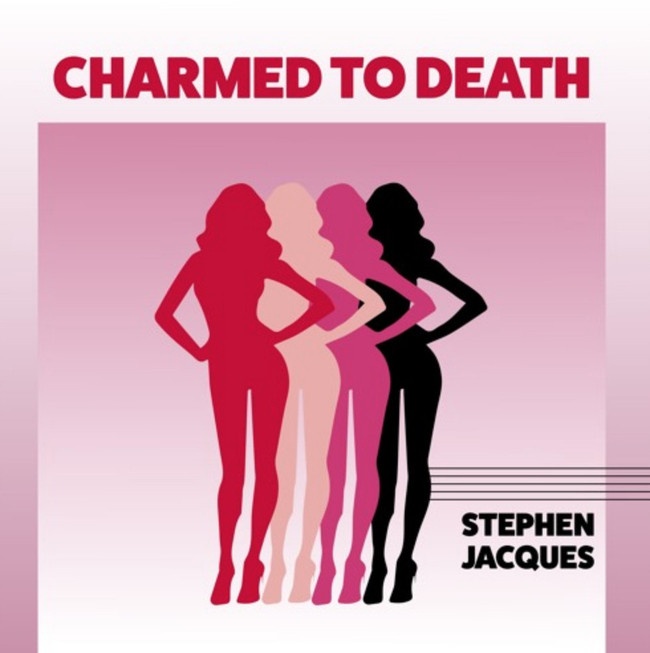 One of this 11-song album's more intriguing songs is "Caroline (MLK Tribute)." It features a guy beckoning a woman to come to him across the county line. It is, presumably, a song about interracial love. Even though it's subtitled a tribute to Martin Luther King, Jacques' lyric doesn't detail King's life and accomplishments. Instead, it's more of tribute to the environment King's social justice activities created, The listener is left with impression, though, that this is unrequited love, in the end. Therefore, it's an unusual lyrical tribute, indeed.
STREAM: (SPOTIFY) – https://open.spotify.com/album/798RuVLwAHh9dlKR5kXZ9e
While "Caroline (MLK Tribute)" is a relatively gentle song, much of Jacques' music is louder and much more rock & roll. "Turquoise Waters," for instance rocks to the left and rocks to the right, both sonically and lyrically. One titled "Sweetness," on the other hand, has an arrangement that includes a lot of space in its mix. It's primarily driven by drums and organ. The last time I remember someone describing a woman as 'Sweetness" in a song, it was when Morrissey of The Smiths sang, "Sweetness/I was only joking when I said I'd like to mash every tooth in your head." This is a much nicer, more loving song.
With "Love for a Moment," Jacques sounds a little like Nick Cave when he begins by announcing, "You say that there's no heaven." This song's lyric follows a long line of songwriters that – although they may have had their doubts about organized religion – nevertheless found irrefutable evidence of something otherworldly in a special romantic relationship. In addition to Cave, Leonard Cohen, Marvin Gaye, Prince, and even Justin Beiber, of late with "Holy," have mined similar lyrical territory.
By the time you get to "Morning Surfers," which is number ten of this album's eleven songs, you may recognize a pattern in the way Jacques records his songs. He consistently makes room to clearly hear the lyrics to his songs. While his sound leans toward the alternative spectrum, where many times words are buried deep in the mix, Jacques places an obvious premium on his poetic lyrics.
As a vocalist, Jacques may be a bit of an acquired taste. He's not what you might term a pure singer. Instead, he has a conversational singing style that propels his lyrics. It is also a decidedly rock & roll vocal approach. He's not attempting to attract lovers of trained vocalists. Instead, he comes off as a sort of garage band singer, more focused on what he has to say, instead of prettying up what he's singing in his songs.
https://www.instagram.com/stephenjacquesmusic/
Therefore, Stephen Jacques' sound is not especially charming. Then again, Laurie Anderson, Lou Reed's widow, surely found that former Velvet Underground vocalist charming, and he was also not an especially beautiful sounding singer. This may only be rock and roll, as the Stones sang, but we like it.
-Dan MacIntosh