"Everything in the world today is about "TOGETHER" So in this moment, we are sharing "TOGETHER" with the world. In my heart I believe this is the rock song/video for the time we are living in. We all have someone we miss, that is home alone, on the front lines keeping us safe or someone we have lost. If we come Together, heal Together, Then "we will be Together' " – American Greed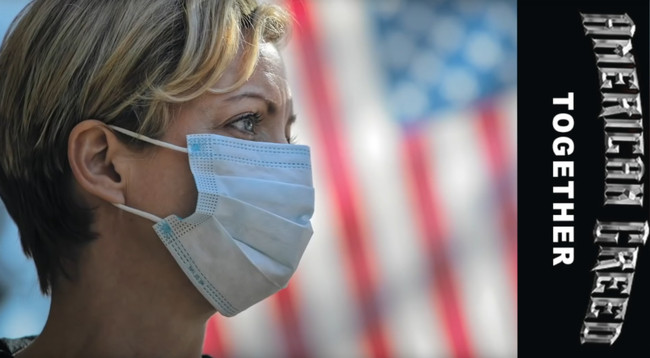 American Greed was formed by a long time Drummer for Chuck Berry and Head East, Michael Mesey. Along with Matt Arana, Dave Farver, and Bob Guion who have all Recorded and Toured Nationally. The powerful combination of these 4 artists each brings you there own individual uniqueness and writing abilities.
As the go-to special show and traveling drummer for Chuck Berry for many years, Michael Mesey had a blast creating explosive moments on stage with the legendary musical pioneer all over the country. Yet one of his most cherished memories is a moment on a tour bus, when Berry was listening to a blues tune, turned to him and said, "This is how I want us to play the blues – because when it's time to rock, you rock me. No, I mean, you REALLY rock me!"
While transcendent, pinch me moments like these have happened throughout the St. Louis native's multi-faceted 40 years as a writing, recording and touring musician, Mesey also knows a little something about the darker side of the life he chose – spending long stretches on the road, spending weeks at a time and holidays apart from beloved family members (including his daughter as she was growing up) while blazing away in the service of rock and roll. A few years ago, when he wrote "Together" for his hard rockin' band American Greed, he never dreamed that the poignant powerhouse of a song – reflecting the personal heartache and longing of the road warrior musician – would become a universal anthem perfectly meeting our anxious collective moment during the age of COVID-19.
Over a propulsive, mid-tempo groove created by Mesey, Matt Arana's sizzling electric guitar energy, lead vocalist Dave Farver's searing, emotional vocals speak eloquently for all those apart from their loved ones due to the pandemic, from family and friends who must Zoom to communicate to relatives of those suffering in the hospital and front liner workers spending hours away from home: "Sorry for the tears you cried/I wasn't by your side when you needed me. . .all I ever wanted was to be by your side/In this jaded heart of mine, you know I really tried/How can I find a way/To heal our soul of sorrows for the time I was away…I just wanna hear you say, we'll be together, We will be together."
In addition to nearly 200,000 streams on Spotify, "Together" – featuring the searing emotional lead vocals of the four-piece band, American greed – is a hit on two influential international charts, reaching #9 on the World Indie Music Chart and hitting #14 on the DRT Global Top 50 Rock Airplay Chart during a week when AC/DC's "Shot in the Dark" was #1. Its impactful video, which opens with the words "We Are In This Together," has over 400,000 views on YouTube.
The clip, created by Mesey, intersperses hard-edged live performance clips of American Greed with compelling images of healthcare workers, military personnel reuniting with family members, eerily empty city streets, medical ships, a busy ICU and crowds of masked people – images which are now familiar to us but only a year ago would have seemed like a new sci-fi movie.
"Together" is the title track from American Greed's 2020 full length debut album, which was produced and engineered by Malcolm Springer, who has worked with Matchbox 20, Collective Soul, Kenny Wayne Shepherd and Isaac Hayes. The track has received an impressive array of critical accolades from prominent indie music outlets. Garth Thomas of Hollywood Digest writes, "Carried out with a thrilling rock ballad music bed, this understated track is one of exceptional musicianship. 'Together' ties the binds that glues the best of the best rock tracks together – a band that rocks together can also release heartfelt songs. The song is inspiring and hits close to home for many. , .American Greed captures the hurt and balances it out very well with the pining for forgiveness . . .a way to say thank you for the selflessness."
Michael Rand of Mobangeles.com adds, "Packed tightly with a near symphonic rock guitar and a percolating percussion, American Greed spoils the listener with the right amount of heart, rock and power pop. 'Together' feels like the culmination of hard work, exceptional talent and wearing one's heart on the sleeve."
"The song had some promotional stops and starts in the past," Mesey says, "but it turns out that this year was the perfect time to release it, because the message is that much more meaningful in light of everything that's happening. Every line I wrote literally fits what we're witnessing – people going into the hospital alone, the first responders spending hours away from loved ones. I originally wrote it because I was often on the road for Thanksgiving, and I regretted missing so many moments in my family's life and wondered how I could make things right. I thought maybe the concept would touch the lives of military personnel who are away for months or years at a time, but now it's an experience almost everyone is going through.
"The truth is, we all have someone that we miss, that is all alone, that is on the front lines working to keep us safe and healthy, and some loved ones we have lost," the drummer adds. "Whether it's the pandemic, the protests due to racial injustice or everyday life, the truth is that despite our differences, we are in this together. Everything in the world and in America is about being 'Together.' I truly believe that we need to come together, rise together, heal together and then we will be together. I hope the song and the video helps everyone in some way or another to feel like they're not alone, that so many others are dealing with the same challenges and frustrations."
Prior to their breakthrough with "Together," American Greed scored some major indie success winning a total of six Los Angeles Music Awards – including Music Video of the Year and Live Video Producer of the Year – and nominated for such honors as Rock Single of the Year, Rock Artist of the Year and Hard Rock Band of the Year. In addition to performing extensively in and around their home base of St. Louis, they've opened the LA Music Awards and the Phoenix Music Awards in Arizona and played the legendary Whisky a Go Go on Sunset Blvd.
Mesey split his time for many years between high profile gigs with Chuck Berry and recording and touring with famed St. Louis based Classic Rock Band Head East, including performances with Sammy Hagar, Boston, ZZ Top, REO Speedwagon, Heart, Cheap Trick and many others. His time with Berry includes shows at legendary venues like The Fox Theatre in St. Louis, The Show Boat in Atlantic City, Bayside in Miami for the Super Bowl, in front of 66,000 at Busch Stadium and performing "Johnny B. Goode" for a live worldwide broadcast from NASA's Jet Propulsion Lab in Pasadena CA for The Voyager project.
The drummer also produced and performed on an all-star version of "Johnny B. Goode" featuring one of the last studio performances by legendary pianist Johnnie Johnson, in addition to Michael McDonald (who sang lead vocals) and saxophone legend David Sanborn. Also interesting to note, Mesey owns the only Chopper drum set in the World and has been featured in many articles around the world including Drum Magazine, Music Connection, Motorcycle USA and Thunder Roads Magazine.
"All of these incredible experiences have led me and American Greed to this moment where we are sharing 'Together' with the world," says Mesey. "In my heart, this is the rock song for the moment we're living in. I hope that when people hear it, they forget about left and right and can relate to it no matter what they're dealing with personally in their lives. It's not a political statement, it's a song about the current realities of what's happening in families everywhere around the world, written straight from the heart. If they feel when they listen the way I felt when I wrote it, maybe they can let all the other things, the differences between us and the issues that divide us, drift out of their head. I would love for everyone to think about this: 'Time can seem very long, remember me when you hear this song, and close your eyes with a little smile,' because it's truer than it's ever been, we are all in this together."