Directed by The Aces' own Alisa Ramirez, the video is a homage to the band's hometown of Provo, Utah, showcasing the quartet donned in ski masks and leather jackets – fans may recognize these from the "Daydream" music video earlier this year – as they bike through the night in the eponymous area code. Culminating in a douse of gasoline and a blaze of fire, the video ends as they stand together at the center of the iconic numbers, solidifying their bond as the flames glow around them.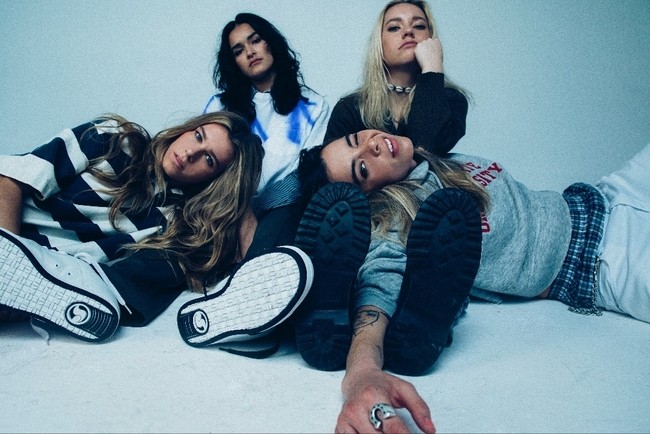 "Growing up in Utah (the 801), a very religious and conservative state, was challenging for us. We always felt like the 'black sheep' or the ones that didn't quite fit into the status quo of our hometown for many reasons; one being that most of us secretly then but openly now identify as gay, another being that we were women who were pursuing a career in music which wasn't always well received," says The Aces. "This video is a representation of feeling unseen and discarded from your own society, it's about being a misfit. We intentionally do not show our faces, shooting at night and in the shadows where our true selves thrived for years."
STREAM / DOWNLOAD: https://ffm.to/undermyinfluence
Alongside singles such as "Daydream," "Lost Angeles," "My Phone Is Trying To Kill Me," and "Kelly," "801" marks one of many tracks off The Aces' acclaimed sophomore album, Under My Influence. Released this summer, the project debuted across numerous Billboard Charts, hitting #53 on Top Albums, #31 for Emerging Artists, and #18 on Heatseekers Albums, in addition to earning a spot in Rolling Stone's Breakthrough 25 list for July. Executive produced and co-written by the band, the project received praise for its exploration of love, relationships, mental health, religion, and sexuality, with several of the band members owning their identities as queer women and using gender pronouns in their music for the first time.