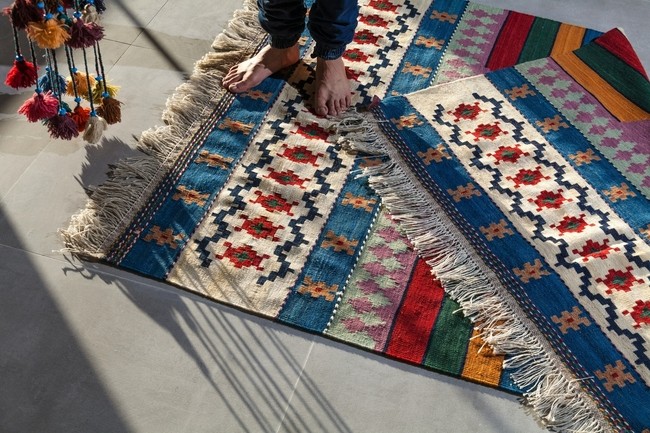 A few décor elements are imperative and transformative – as well as fear-inducing- as an area rug. 
Texture, size, pattern, color, and shape are all variables to consider, along with the constant doubt of whether it will clash or complement your existing furniture. One wrong, not to mention too expensive, choice can throw your entire living room off balance.
On the hunt for the perfect rug to complement your new living room? Check these tips from the pros, and you will be snuggling up in no time. 
Consider the Function 
Long before your search even begins, start thinking about your lifestyle. Ask yourself things like: How do you envision living in your new loft? Is the priority comfort or glamour? Maybe something that will easily hide wear and tear (like coffee and wine spills)? Do you like partying?
Every choice you take goes back to how you plan to use your space, plan to spend your time in the living room, and, therefore, dictate what design you should look for.  You can create a stylish and contemporary twist to your interior design by adding a fashionable rug from Art Hide.
Above all else, there's a more dedicated side of the rug you need to focus the most on- fibres. With regards to choosing the best rug for the living room, textures are an important factor to think about. 
These countries make the most beautiful rugs, but the design and texture you choose depend entirely on your lifestyle. So, which rug material is best for a living room? 
Wool
Wool rugs are both solid and warm, so they are ideal for when you need an area rug to help protect a dining room in winter. What's more, wool-made rugs are very simple to clean, not to mention are fire safe in case you're looking for floor lamps covering to put before a fireplace. However, a drawback about wool rugs is that it doesn't roll very well against corrosive spills like juice or wine. Stains like these can completely ruin the rug. 
Wool Mix
Mixing human-made fibre with wool can reduce shedding and help the rug keep its shape since wool can twist its form. Wool-mix rugs can be very sturdy and are very efficient for family room coverings exposed to substantial footfall. Mixing wool with human-made fibres like polyester, nylon, or polypropylene makes a less expensive option in contrast to a wool rug. 
Polypropylene 
This human-made fibre is the most invulnerable to staining. Polypropylene is extremely intense and is stricter than other materials. However, it can be highly combustible, so it's the biggest no if you plan on putting it near a fireplace. Also, another disadvantage to this is that it's not so good at holding its shape after having the furniture set on top, not to mention that hauling furniture over it can cause irreparable harm. 
Hand-knotted rugs 
Skilled artisans from India and Afghanistan make the most beautiful hand-knotted rugs- but rather than making it more fragile due to its meticulously crafted manufacture, this process delivers durable products. When you think that a high-quality rug can have 200 knots per square inch, you can better appreciate the amount of time and care that went into its production. Because of this, these individually made rugs are of excellent quality and can even last for a generation. On the other hand, machine-made rugs can look good – but they won't last as much as the hand-knotted ones.