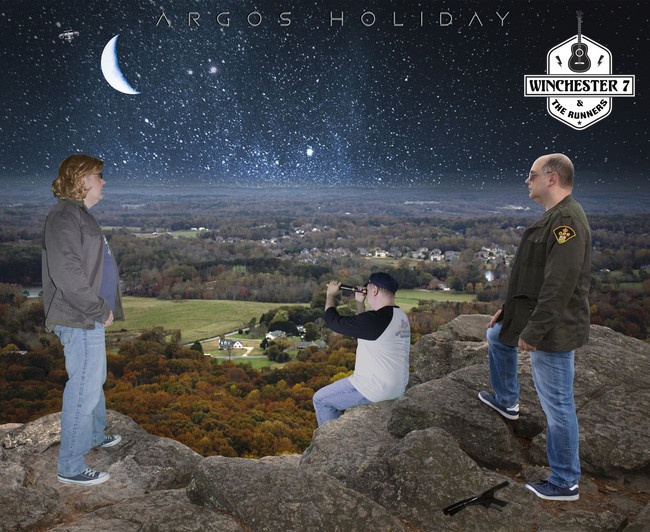 Winchester 7 & the Runners deliver a fuzzed-out indie rock frenzy on the infinitely catchy "Argos Holiday". Full of tremendous heart and soul they deliver an earnest joyous experience. Stylistically they draw from a whole slew of genres, from nods to new wave to the spaced-out Zen of surf rock. Layer upon layer enters into the mix resulting in a vast kaleidoscopic approach one with its own serene sense of self. Riffs roll through with a great degree of warmth to them for the tracks have a lived-in quality to them. So much tenderness comes through on the deft lyricism which are delivered with passion.
– https://open.spotify.com/artist/15Mzrd47XdRknfsKLFIMci
The vocalist's striking resemblance to David Byrne feel undeniable. With his carefully balanced anxious delivery the songs gain a poignancy to them. Beyond this, their devotion to a lo-fi garage rock aesthetic recalls the mastery of those fantastic revivalists, the wild carefree attitude of Thee Oh Sees. Going for a hypnotic groove recalls a poppy version of Television's "Marquee Moon". Balance between all these different styles and sounds results in their own voice one that ties the entirety of the album together. Over the course of the work there even are touches of an existential nature, with surreal sounds further adding to the disorienting experience of the unfurling journey.
Not a moment is wasted for things start up on a high note with the gnarled guitar of "When the World Stops Spinning". Clever usage of tape adds to the worn, warm, and wonderful spirit of "In the Morning Light". Here the acoustic guitar lends it a folk punk ethos. Warped takes on 60s psychedelic pop emerge with the sly "Gonna Start Right Now". Giddy energy of "My Super 8" gives it a playfulness. By far the highlight of the album comes from the sprawling bliss of "The Saint Simon Killer", where the guitar work feels quite lovely. Distortion reigns supreme on the spiky "The Golden Age". Neatly tying everything together with the finale "The Saint Simon Killer (Bonus Track) [Stuart Epps Mix]" giving it a glossy sheen.
"Argos Holiday" shows off the undeniable chops of Winchester 7 & the Runners in exploring a universe uniquely their own.