The Relentless Rapper, The Hip-Hop Assassin, The Rap Ninja is back for more with a new release titled 'From My Brain To You'. His name is Flippin' Gothic Fabp and don't forget it! I've had the chance to work with this NYC-based artist many times now and he never disappoints!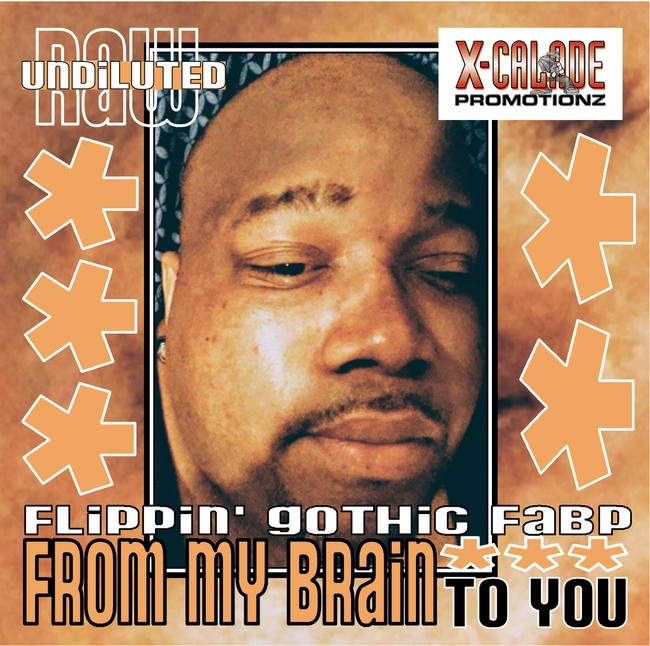 I'm always amazed by the swiftness in which Fabp releases new music as he seems to have endless material at his disposal. I admire the tenacity and drive that Flippin' Gothic Fabp possesses and I'm very pleased with his most recent effort, 'From My Brain To You'. Give this man a pen & pad and stand back folks!
What I loved most about the new album is how creative & catchy Fabp is with rhyme schemes and also the fantastic beats are an instant draw. The record features 15 original tracks and one different from the next as Flippin' Gothic Fabp wouldn't accept any less. With the opening track, "Vybez Sounding Sweet", you get that patented Fabp delivery where he drops a mad beat to bounce to. Next, Fabp is going bananas for a fresh 'n' fab female on "Eye Saw This Girl" where fly rhymes and bangin' beats are present. Track three, "Riot Spittinger", is on Operation Rap Speed and offers the listener calculated distortion for your eardrums. Flippin' Gothic Fabp is spittin' the truth on "Problems a Gwaan" where the NYC rapper is spreading mindful lyrics and hip-hop joy for ALL to hear. On "Spit Row Spit", Fabp is so fresh on the mic and not holding back one bit. Track six, "Mess Don't Boi", provides a fun-filled sound that features your host with the most, Flippin' Gothic Fabp. Fabp invites you to take a spin and come on down, but don't get it twisted because "Mess Don't Boi" is no game. Moving along, Fabp enters chill mode on "Rocky Rap-N-Swing" where he professes "I do my thing like Rocky Road". "Rocky Rap-N-Swing" showcases a cold-as-ice flow that will make you sway to and fro. Fabp is standing tall with a strong delivery on "Proud To Be" that contains lyrics of relevance & realism. Get ready for a rough, rugged & raw mix on "Shorty Gangsta Too" where Flippin' Gothic Fabp comes correct and apparently "She don't play no games". Track 10, "Bubble Sound Pop", is street pop at its finest and blowin' out your speakers with bubblicious bass. It's Fabp storytime on "Tunes I Got" where the Indie artist is hitting you from all directions with verbal artillery. Things are about to get "Out Of Control" where Flippin' Gothic Fabp is blazin' the trail for true, hip-hop heads everywhere. Track 13, "Rap & Boogie", supplies a cool, futuristic vibe and robotic sound waves that will penetrate your ear canal. Fabp is straight forward and not foolin' around on "License of the State" where you will be listening closely to each lyric & verse. Flippin' Gothic Fabp ends with a BOOM on "The Doom Remix" where you will hear Fabp droppin' bombs on 'em.
One element of Fabp's music that stands out to me is the old-school flavor that I have much respect for. Also, Flippin' Gothic Fabp is a freestyle fanatic and truly embodies the art of hip-hop with his MC skills. Fabp's musical style is considered underground rap, but I think it's about time that The Relentless Rapper break to the surface and burst onto the scene. 'From My Brain To You' is a rock-solid rap album that should be appreciated by many. Who said hip-hop's dead; tell 'em Flippin' Gothic Fabp because I know we haven't heard the last from you!
https://x-caladepromotionz.bandcamp.com/
https://www.instagram.com/therealfabp/
By Jimmy Rae (https://skopemag.com/?s=Jimmy+Rae)