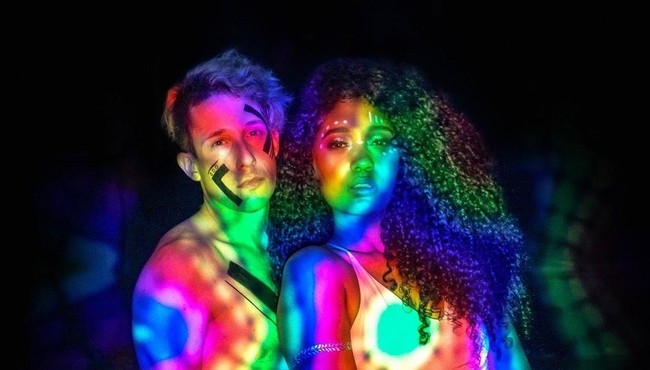 TĀBÖŌ, composed of engaged couple Maite and Richard, are here with a brand new music video for their single "Sad Boi," an artist's take on the rollercoaster ride of the 'industry.' The music video catches the Los Angeles based duo on a ride through the empty hazy Venice boardwalk during the lonely and uncertain times of 2020; a year that has held some steep challenges for the two. With "Sad Boi" and the new music video out today, they take it all in with a grain of salt, and laugh back at the "sad boi" movement, rather seeking a bright future – for all of us – in 2021.
– https://artist.landr.com/music/672985539426
The two members of TĀBÖŌ come from very different backgrounds. Richard, who is originally from DC, used to busk at the Santa Monica Pier and Maite, from Brazil, speaks 8 languages, has been writing songs since age 9, and moved to the states with her family seeking political asylum. Individually and as partners, they've worked on various projects throughout their time in LA, but TĀBÖŌ is their most personal, and most pop, creation yet.
TĀBÖŌ, much like everyone else, has been through a lot this year. Richard was diagnosed with a rare autoimmune disease. Then they were cut from a prominent singing competition show. The music video represents their dealing with the industry and with COVID. Richard represents the frantic search for self during quarantine. Never still, never comfortable, always pushing onward yearning for more. Maite represents the crippling depression counterpart. Laying limp in the shopping cart, like those unmotivated to so much as get out of bed to face the day. In the end the two find a destination in the archaic journey, and make haste into the moonlit night. The Video was shot in various locations of the homeless districts of downtown, as well as Venice skateparks and the Santa Monica Pier. The song itself is a musical embodiment of the notorious "sad boi" movement among teens and moody young adults, as well as the loss of innocence and gained perspective.