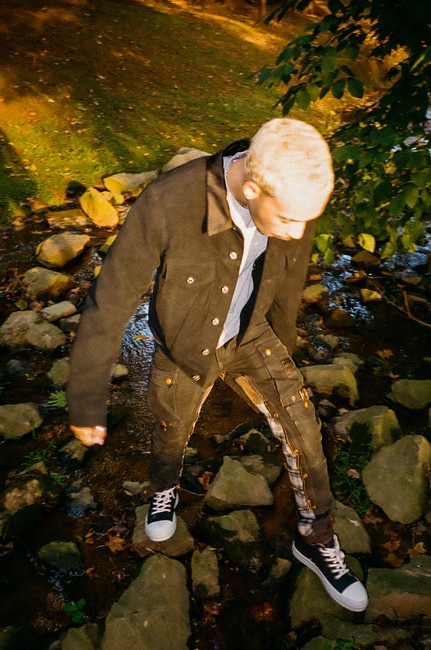 So here we are on Monday December 14 and 2020 is rolling on by. The music will take us right into 2021 and we could not be more excited. Today we are pleased to get to get caught up with Mehki Letreigh. Born in Los Angeles California, rising recording artist/producer Mehki Letreigh is really keeping busy these days. We are really loving his new single 'Rolling Stone' and his new album "Reconstructed" should be out soon as well. Join us as we get familiar with Mehki Letreigh.
@skopemag: Where are we talking from today and are you excited for the holidays?
We are talking from the beautiful city Los Angeles, California today. The home of Mehki Letreigh and many others. As far as the holidays I'm a lil excited, holidays this year are much different because of covid but I'm still grateful to be here for the fam and my friends. Just wish everyone could be together like normal.
@skopemag: 2020 was a rough year globally. Please help us and speak on some positive things that have happened in your life over the last year?
Too many to tell honestly, let's just say this year changed my life drastically. If you know you know lol…Couldn't complain about a thing, just feel so grateful and blessed to even be where I am today. This years been a crazy one, but I wouldn't change a thing. My thoughts and prayers go out to everyone who had a hard year though, I know it's been real rocky for a lot of people I know.
@skopemag: I am always so curious, is Mehki Letreigh your real name or a musical alias?
Mehki Letreigh Averhoff is my birth name. Mehki Letreigh is my artist name, first and middle name. I've had many different aliases throughout the growth of my artistry but nothin fit better than my true name.
@skopemag: At what age did you decide to go all out and pursue music and have your friends & family been supportive?
16 was the age I told myself I'm doing this and I'm not looking back. My friends and family have been nothing but supportive and helpful along this long journey I've been on with this music shit.
@skopemag: I am really loving your new song 'Rolling Stone' – explain what inspired that song and where did you record and master the single?
So theres actually a pretty cool story to how rolling stone came about. I was in the studio with my brother "Santana Ali" and we were recording some other records. I started playing beats this kid I met on Instagram had sent me. Usually I don't respond to Producers I meet through IG because I've just had time wasting experiences with them, but I answered JDL. He's the producer that made rolling stone, that beat was the first one he sent in the pack and as soon as I heard the first couple seconds I knew i was gonna make a banger to it. I had instant chemistry with the instrumental. I waited till I got home and was alone to record because I feel that's when I make my best songs, in private.
@skopemag: I do not think there is a video out now – but if you were to create one what would the visuals look like to express the song?
We actually just shot a video for rolling stone and I don't wanna spoil it anymore than I do on my Instagram lol. Just know it'll be what you expect, great video for a great song.
@skopemag: Word is you are working on your debut album "Reconstructed". Who are you working on that with and explain what goes into the massive project to create and release a full album?
It takes a lot of time and dedication, but nothing anyone couldn't do in my opinion. I'm in the mixing and mastering phase right now, once that's over it'll be ready to drop! I've worked with a lot of great artists, producers, and engineers and they've all played a big part in this project coming together. Special thanks to Spookfever, Mitchell dolphin, Dreamin DNA, synista trip, the twins, and everyone else who helped me finish this project.
@skopemag: When you are not making music, what other hobbies/activities do you have going?
I like to come up with concepts and stuff like that. I love to look at clothes, big fan of fashion. I can sit and look at drip all day. Play some smash bros here and there or UFC. I guess I can say going on drives is a hobby of mine, I really fuck with going on drives listening to good music and just thinking lol…I really don't do much nowadays just record or make beats.
Mehki Letreigh – 'Rolling Stone'
– https://open.spotify.com/track/5M9E3i8MV9lDWiImnEq5Dt
@skopemag: For those that are new to your music who would you compare your sound to and what can they expect from music?
I wouldn't compare myself to any artist because I feel like I have my own lane. I might sound similar or give off similar vibes but I really just try to be myself and tell the listeners my story through the music. If you listen to Mehki Letreigh expect pain, expect realism, and stories.
@skopemag: I am a big fan of Amazon Music Unlimited – what platform do you like best to consume music these days?
I personally use Spotify mainly, and SoundCloud for songs that aren't on all platforms.
@skopemag: What can we expect from you in 2021 and where can we follow and stream you?
You should expect much more music, visuals, and features. I'd say travel, but with all this covid stuff goin on we'll have to see about that lol. I'm on all streaming platforms and you can follow me on Instagram and Twitter @mehkiletreigh