At the intersection of Georgia sweetheart and Nashville rock-star, you'll find Hannah Anders. The powerhouse vocalist and clever songwriter catapults her listeners from backwoods party anthems to soul-filled serenades in her new album Evolution. Anders's up-coming full-length album is a rock-meets-country composition that salutes those brave enough to navigate break-ups, make-ups, and the ambiguous in between with a true Southern flair.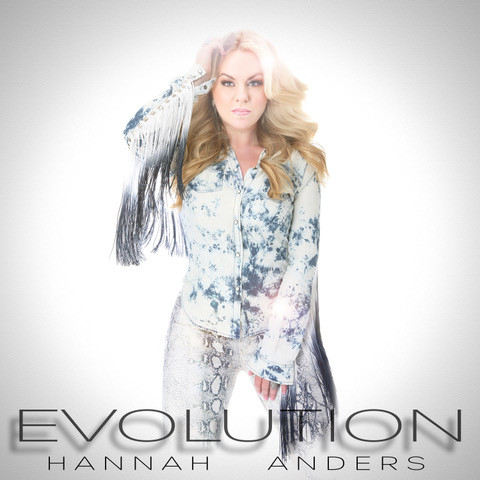 The album opens on a dynamic high note with the single "Break Us." The track explodes with a triumphant melody infused with steady acoustic guitar juxtaposed with electric riffs. Strong lyricism and Anders's thundering vocals whisk the listeners into a relationship built to stand in the face of incessant cycles of break-ups and make-ups.
Anders ushers in a new element to the album with the tracks "Southern Free" and "Paint the town." Her Jack Daniels soaked odes to southern ways and traditions depict down-home-style living and partying, accompanied by danceable tunes played on the fiddle and classic sounding guitar solos. Lyricism is Anders's métier rivaled only by her smooth yet potent vocals. "Paint the Town" opens with verses reminiscent of an edgy Dolly Parton.
"Drinkin' Him Wonderful" puts a comedic spin on the dating game and bar scene through the tale of a woman left with very few viable options at her local dive. Anders jokes, with just a tinge of honesty that may hit just a bit too close to home for some, that when the lights are low and the drinks are high, a two might just become a ten. "Like a Lady" takes a similarly satirical approach to an even more poignant predicament: running into a significant other's toxic ex.
Anders switches the pace and shows a more vulnerable side with her piano ballad, "Outside Looking In," an honest look at a crumbling relationship. She said on her Instagram that the inspiration for the song came from a close family member's unexpected and difficult break-up. The song laments about the dark times in relationships and the parts that nobody wants to show. Anders talks about how couples present themselves on social media; people often post the most dazzling aspects of their relationships and life and, from the outside, everything looks perfect but there is so much more beneath the surface. She says her favorite line in the song is, "Everybody wants your life when you're good on paper like you and I."
"While I Still Got Time" is a standout track on Evolution that exudes outlaw country and power. The song is filled to the brim with high-energy melodies and instrumentals. Hard-hitting vocals and Anders's signature rock-meets-country flair come to a head as she showcases her versatility and abilities as a storyteller.
As the album nears its end, Anders drives home her theme of evolution. "Crazy Train" and "18" are tales of growth and coming of age. She addresses one of the most difficult aspects of relationships, and that is knowing when to leave. This track placement adds a cohesive element to Evolution and Anders closes the album with another ballad style song. "18" gives the listeners insight into a party girl outgrowing reckless abandon while still remembering and valuing her roots.
Evolution is a roadmap, so to speak, that navigates hazy misadventures and heartache. Anders leads her listeners through it with ease. The intuitive and honest lyrics paired with an innovative sound are a force to be reckoned with, and it seems that Hannah Anders is as well. Evolution will be out on January 22, 2021.
https://www.facebook.com/HannahandersMusic
Written by Kelly Fletcher