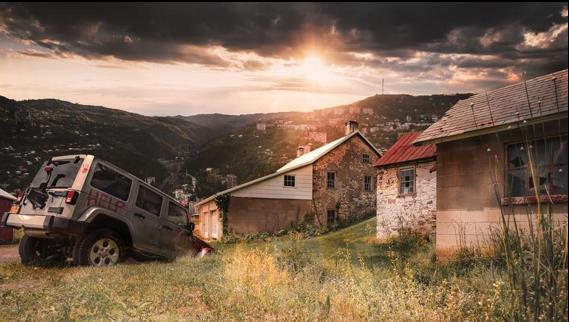 As part of my daily routine, I've started watching one movie every night. I'm a pretty big cinephile and it's been a lot of fun. I've made my way through a few genres, but recently, I've been hung up on post apocalyptic movies. There's just something about seeing these characters triumph through obstacles like aliens, climate change, and the fall of humanity. While looking for ideas of what to watch, I came across this list for post apocalyptic movies. Honestly, the list is very great and the website, called Friendspire, is awesome so it inspired me to share a few of my favorite post apocalyptic movies with you. 
The Road
To summarize without giving anything away, The Road follows a father-son duo as they trek across the United States on a quest to reach the South. Now, based on that description, that movie sounds pretty boring, right? False. Their journey is made very difficult thanks to the effects of climate change and the people they encounter along the way. America has pretty much burnt to the ground, which honestly isn't that far outside of reality with the rate wildfires have been going. It's bitterly cold, too cold and the snow that falls is eerie and grey. They're on a quest for survival, to seek warmth and a new place to thrive.
I'm a big fan of Viggo Mortensen, especially after Lord of the Rings, maybe I'll rewatch those soon. Anyway, he plays the father in this movie to actor Kodi Smit-McPhee. An interesting point to make note of, none of the characters have names in this story. They're just credited as boy and man. Charlize Theron makes an appearance as a woman. The father-son dynamic between man and boy tugs at your heart. He's the type of dad who will stop at nothing to protect his son and to ensure he has a future. The movie is suspenseful in parts when they come across other individuals that are also trying to survive this post apocalyptic world. How do you know who to trust when everyone is just trying to survive another day? 
The Road is based on a book of the same title written by Cormac McCarthy. Joe Penhall was chosen to write the screenplay because he intended to honor the original book and not alter any of the dialogue. Honoring the source material became a priority for this movie. Director John Hillcoat even read the book before it was officially published. He worked very hard to capture the desolate post apocalyptic feeling from the book and translate it to the screen. I strongly believe he did a great job so make sure to check this movie out. 
Shaun of the Dead 
Full disclosure, my wild card choice for this list is one of the more obscure post apocalyptic movies. I'd argue not all post apocalyptic movies have to be sad and scary, which is why I'm including Sean of the Dead on my list. It's certainly very different from a Will Smith zombie movie. This movie follows a man named Sean as he goes about his ordinary daily routine until his life is turned upside down by the zombie apocalypse. Sean must overcome all odds to survive.
This movie stars Simon Pegg, Nick Frost, Kate Ashfield, and Lucy Davis. Amazingly, Simon Pegg pulled double duty and co-wrote the screenplay along with director Edgar Wright. You might know Edgar Wright from his other impressive credits like Baby Driver, Scott Pilgrim vs. the World, and Hot Fuzz, which he also wrote and directed with Simon Pegg. Just by watching this movie, you can immediately tell how much fun Pegg and Wright had when creating it.
There are so many fun little hidden gems in this movie like the character of Mary. Mary can be seen as the check out girl in the opening sequence. Most people wouldn't know that Mary is also the first zombie Shaun and Ed encounter. Pegg and Wright loved Mary so much that they wrote a comic about her for a popular British comic called 2000 A.D. Mary's comic strip was titled "There's Something About Mary," and it tells the story of how the check out girl at the market became part of the undead. Simon Pegg and Edgar Wright are also known for honoring their fan base. They allowed fans to portray the zombies in Shaun of the Dead by reaching out to them via a Spaced Out fan forum. Spaced Out was also directed by Wright and starred Simon Pegg and Nick Frost, who plays Ed in this movie. While I've always enjoyed Pegg and Wright's work before, I would consider myself a fan now. 
 The Book of Eli
A list of post apocalyptic movies would be incomplete without the inclusion of The Book of Eli. It tells the story of a man tasked with protecting a book as he carries it across the country. The catch is, in this book is the secret to save all of humankind. No pressure. On his journey, he comes across power-hungry individuals who will stop at nothing to take the book from him.
If you're looking for an action-packed, guns blazing, post apocalyptic movie, look no further. Denzel Washington does what he does best and it should be noted that he did all of his hand-to-hand combat stunts in this movie. He's joined in the cast by Mila Kunis and Gary Oldman. I think the scariest part of this story is that the main conflict lies within humanity. Yes, the world has fallen to shambles and their surroundings are desolate, but there aren't any zombies or massive tornadoes killing them. They are killing each other because they refuse to work together to survive. 
It's never fully disclosed in the movie when the apocalyptic disaster occurred. However, there are quite a few hints that the destruction could have been brought about by a nuclear war. Eli states, "thirty-one years ago, the war tore a hole in the sky." Also, if you pay attention to the scenery, there are quite a few bomb craters scattered about. I like that it's never expressly determined. It leaves more to the imagination and heightens the danger and horror of the situation. 
Conclusion
I know this is a very short list but trust me all three are worth the watch! Give these films a try, and afterwards, if you're looking for more suggestions, head on over to this list of post apocalyptic movies for more suggestions. I may have only named three post apocalyptic movies but the list I shared is amazing and gives you an overview of each post apocalyptic movie that will keep your eyes glued to the TV screen. 
You Might Also like: Create Your Personalized TV Guide with Friendspire