Get ready to dive into the wild world of digital media through the eyes & minds of real life artists. "InstaBAND—Surviving The Streaming Revolution" is an exciting, new music documentary that focuses on the good & bad associated with this digital age of music we are now in. The viewers will get valuable feedback from many popular Indie artists and music industry professionals. "InstaBAND" looks to get to the bottom of music streaming once and for all!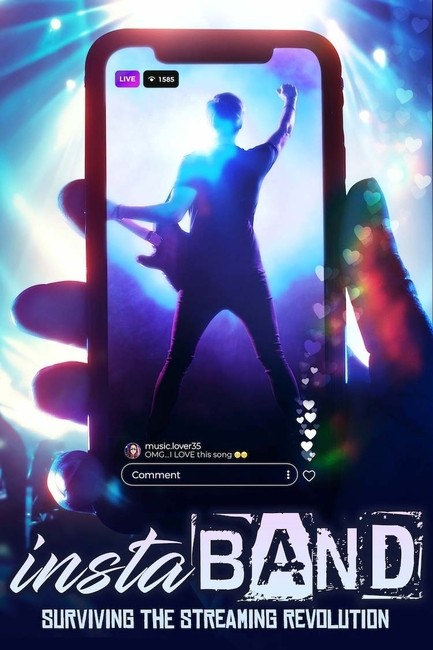 This film was directed by Bob Rose who has over 20 years experience in the industry. Bob Rose has produced projects for HBO, MTV, Showtime, ESPN and won an Emmy for his work on MTV's "True Life". Bob has also done work with the Super Bowl and his directorial debut came back in 2016 with his documentary titled "Functional Fitness". Jump ahead to 2020 and "InstaBAND" is the talk of the town! This music doc is even more of a special occasion because it marks the first film for Bob and his wife Margie Rose. The two met during the making of "Functional Fitness" and the rest is history! "InstaBAND" was filmed all across the United States (Nashville, San Diego, New Orleans, NYC and Tampa) and it's worth noting that this film was fully-funded by Bob & Margie Rose.
The documentary starts up by emphasizing the fact that CD/Record sales are down and that stores have closed nationwide. The film then discusses how Napster came in and changed the entire music landscape followed later on by Spotify. Music streaming is now the new wave, but the movie talks about how streaming is majorly affecting revenue stream for artists. Hip-hop act, Stealing Oceans said it best here, "Music is so powerful and unfortunately I think it's undervalued." "InstaBAND" even touches on the Music Modernization Act signed by President Trump that aims to help protect artists when it comes to music rights. 
https://www.congress.gov/bill/115th-congress/house-bill/5447/
The film then ventures into the land of social media and how to monetize live music & merchandise, which is highly beneficial toward creating and continuing a steady flow of revenue for musicians. "InstaBAND" also talks about the importance of licensing songs to TV shows, movies and commercials as well as getting involved with companies & organizations. The film mentions how there are more options to create music from home right on your computer and how your phone is saving you a lot of money by eliminating expensive studio sessions. The documentary even stresses the problem of oversaturated music artists of today and how street performances and smart phones are important tools. Artists in the film shared their thoughts on the importance of fans and here are some highlighted comments: "You still need that organic connection beyond the computer screen."(Ray Wimley), "Connecting and being there for your fans is HUGE! (Adara) and "We're Nothing without our fans." (Stealing Oceans). The film discusses music branding and how it's a key element toward being successful in this digital age. Street performer, Naked Cowboy explains that, "If you're just gonna try to sell music without a brand, I don't think you have a prayer." Next, we hear from Adara on how "playlisting is the new game for Independent artists". The audience will learn about the key role authenticity plays in the making of a music artist of today. One will also find out that big record labels aren't necessarily the answer and that grassroots promotions can prove to be much more valuable and beneficial to some musicians. There were some valid points made on this topic and here are some: "You can be an artist without a record deal and be successful," said Kid Politics and Amber Stoneman of Nashville Unsigned added this, "We're kind of a New Age anti label label". I personally loved how the film goes into the fact that vinyl is still a hot commodity and that consumers still want to hear music on an actual record. Sticking with the retro theme, the end credits display a backdrop image of CD packaging that reads "Compact Disc Digital Audio and Digitally Remastered". Coming from someone who is old-school to the core with a heavy appreciation & respect for things of yesteryear, I really enjoyed this visual at the end. Something else that was really cool was how the documentary also ended with announcements & updates from the featured artists in "InstaBAND". And of course, the viewers will also be reminded to always "Support Independent Music" as the film wraps up.
"InstaBAND" is a microscopic look into the world of music streaming and how to make it as an artist in this digital realm. There are golden nuggets of information put forth by Bob and Margie Rose and the talented artists who shared their personal experiences in the ever-changing music game. The music industry is constantly evolving and "InstaBAND—Surviving The Streaming Revolution" will teach artists how to properly evolve with it. You can look at this film as an encyclopedic, step-by-step guide on how to be relevant and successful in today's music market. Bob Rose said it best when referencing music artists of today and that is simply that it's "all about the hustle". If you're willing to put the time and hard work in while taking advantage of every resource available for musicians, then that should merit positive results. Stay STRONG, Stay COMMITTED, Keep FIGHTING and PLAY ON Indie artists!
You can SKOPE out the official trailer for "InstaBAND—Surviving The Streaming Revolution" right here:
Also, be sure to check out "InstaBAND" streaming right on Amazon Prime Video: https://www.amazon.com/gp/video/detail/B08B3668Q2/ref=atv_dp_share_cu_r.
Bob and Margie Rose along with all of the featured guests in the film provided a tremendous wealth of knowledge that can go a long way for ANY artist looking to make a name for him or herself in this tough music industry. Be RELENTLESS and never quit because the art of music will live on forever!
By Jimmy Rae + (https://skopemag.com/?s=Jimmy+Rae)