Joan of Arc have released their new single/video "Feedback 3/4" ahead of this Friday's release of their final album, Tim Melina Theo Bobby.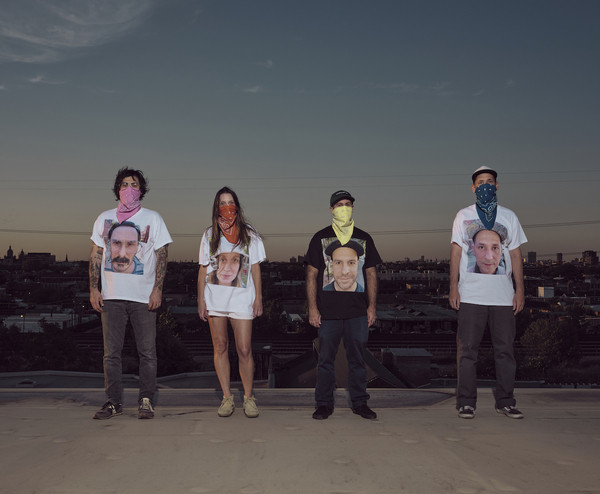 The kaleidoscopic, experimental track was written by Melina Ausikaitis. "'Feedback 3/4′ is named for the sounds made by my fake guitar during the song's most poignant moments," she explains. "Last night I sat around the fire with my sister Simaya, who lives in Evanston, IL, just a few miles from the homes and schools where many classic John Hughes' teenage comedies were filmed. This song is about savored and stored happy endings and their contribution to my dissatisfaction with real life."
Written and recorded by the band (Tim Kinsella, Ausikaitis, Bobby Burg, and Theo Katsaounis), and featuring frequent collaborators Jeremy Boyle, Jenny Pulse, Nate Kinsella, and Todd Mattei, Joan of Arc's final bow ends a legendary 25-year career and was made knowing that this would be the group's last.
Writer and poet Hanif Abdurraqib is a witness to the Joan of Arc experience, writing in tribute, "if one listens closely enough on this album, you hear the evolution of a set of musicians, who still have so much to offer the world, even if it isn't in this container that some of us have gotten used to hearing them in; as Good Fuck, the duo of Tim Kinsella and Jenny Pulse, or Aitis Band, the project of Melina Ausikaitis, Theo Katsaounis, and Bobby Burg. There's a dexterity, a calm, and a maturity to the sounds running through this album that have me excited to see whatever is on the horizon."