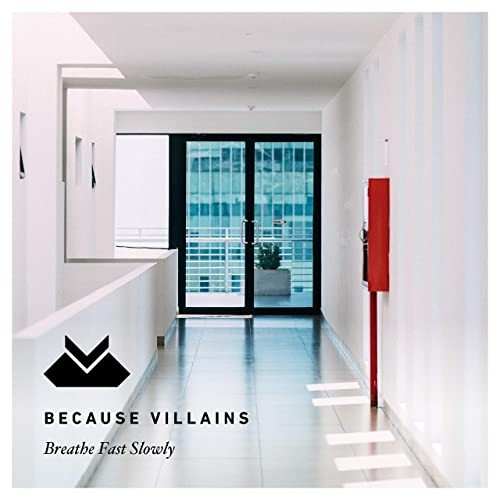 One of the more noteworthy tracks on Because Villains' EP, BREATHE FAST SLOWLY, is a cover of Wham's "Everything She Wants." It's a great, seriously honest song about a gold digger. Its lyric is the sound of a guy complaining about a girl who behaves like everything she wants, is everything she sees. She's impossible to please. This song is important for a couple reasons. One, it's a serious song from a duo (for a time) more famous for frivolous songs, like "Wake Me Up Before You Go-Go." Secondly, it foreshadows much of the more serious music George Michael would create as a solo artist. Then again, its lyrics about marriage to a girl who says she's having his baby, sounds a little insincere in light of his eventual coming out as a gay man. Because Villains doesn't change the song's arrangement too much. It's mostly built around an electric guitar part. It's sung really well, though, which is saying something because Michaels was a fantastic singer. It's refreshing to hear the song given a new spin, and it reminds us how great Michaels truly was.
The EP begins much more lightly with "Last Word." This one is a pop rock song with little more than a rapidly strummed electric guitar on the song's verses. One can also hear a piano plunking along on it. While it sounds lighter, musically, the way the words "I'm giving you the last word" are sung, does add to the track's overall tension.
Breathe Fast Slowly on Spotify:
https://open.spotify.com/album/0hkainHshPQv1lgT1rTZV3
"Already Gone" is something completely different from the rest of the project. It features a breathy lead vocal over a mostly acoustic arrangement that is notable for its guitar part. It's a sad lyric about – one suspects – one person's emotional departure. Many times, people have mentally left their partner before they actually physically depart. The song has a touch of a Nick Drake quality to it. It's quiet, emotional and draws the listener right in.
The release concludes with a more rhythmic track called "What You Say." It opens with a pounding drum part. The vocal is edgy, a little like Thom Yorke of Radiohead places. There is a distinct tension in the music and the vocal. Over and over, the singer demands, "Say what you mean." The song sounds to be about communication – or the lack thereof. It's arranged around an electric guitar part gives the recording an alternative rock feel. It's not a sonic that burst out with rock power. Instead, it sounds a little like a volcano that is always threatening to blow. One gets the feeling this is a relationship that is on the edge of exploding. Because Villains does a great job of creating this internal tension.
https://linktr.ee/becausevillains
The EP's title, BREATHE FAST SLOWLY, is an oxymoron. Don't try this at home! It illustrates, however, how relationships can also be paradoxical and oxymoronic at times. Things don't always add up or make sense. These pairings oftentimes raise more questions than they answer. Because Villains has created a four-song EP, and there isn't a bad track in this quartet of songs. BREATHE FAST SLOWLY is truly a breath of fresh air.
-Dan MacIntosh