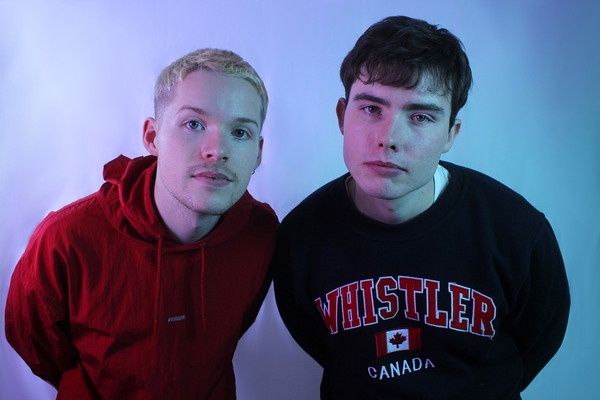 For many of us, this year has halted even the best-laid plans. Yet for up and coming duo Son of Cabe, this year has proven to be the catalyst for a whole new music venture. The virtuosic duo, made up of Guildford natives Conor McCabe and Jack Holland, is treating our ears this month to an experimental, electronic anthem ready to empower us to break free from the fictional constraints we feel around us. Having met at university, Son of Cabe was birthed out of the solo projects of Conor McCabe. With Jack Holland brought into the picture, Son of Cabe has flourished into its fully realised form – and we couldn't be more grateful. Boasting an impressive roster of singles and collaborations between them, Son of Cabe has earned themselves over an immense three hundred and fifty thousand streams on the platform alone. Pretty big deal for a band that only released their first single in 2018. The duo's experience and musical understanding culminate in a sound reflective of the fresh wave of electronic indie-pop infiltrating our airwaves this year. After receiving a whole host of attention for their single 'Let Go,' Son of Cabe's upcoming single continues to showcase the exceptional range of musical expertise the pair have up their sleeve.
Songwhip: https://songwhip.com/sonofcabe
'Whistler' is the fresh single from the talented two, set to be released at the end of the month. Whilst experiencing the recent chaos we've all somehow managed to muddle through, frontman Conor McCabe found himself heavily weighed down by the constant onslaught of bad news and negativity. Pouring the essential escapism we've all indulged in this year into his music, 'Whistler' was conceived. Describing this track as him "desperately fantasising about the idea of running away with someone to a better place, a better quality of life," Conor has curated three minutes of all-encompassing imagery that transports the listener to that better place the singer imagined. Rife with driving drum lines and spacious synths, 'Whistler' is sculpted on a soundscape of subtle synths juxtaposed by the raw, impactful nature of Jack's acoustic drums. Riding over the rapid rise and falls of the backing, Conor's vocals sit front and centre – and, boy, does he sound good. Having already received BBC Radio airplay, performed at The Great Escape Festival and received rave reviews from the likes of EARMILK and Acid Stag, Son of Cabe are making their name with their meticulous attention to detail and unavoidably vibrant vocals. With their upcoming single set to be released on the 27th November, it's evident Son of Cabe are building on this momentum to show exactly why they're a hot act rising the ranks this year.
Son of Cabe's Facebook: https://www.facebook.com/sonofcabemusic