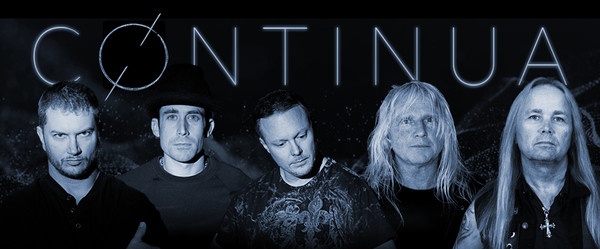 Continua embrace a dark, sleek beauty on the pristine "Flagship EP". They craft a true classic with this singular work. Everything, from the stately grandeur of the rhythms to the regal riffs that run through it all gives it a heavy, heady quality. Vocals have a deep resonating quality nicely reflecting a nod to Ian Curtis's delivery. Lyrics aim for a poetic affect for the words are carefully chosen and balanced for maximum emotional impact. The whole band plays off each other for the group interplay feels majestic. Stylistically they are firmly grounded in a darkwave aspect, bringing together elements of post-punk, industrial, hard rock, and classical into a cohesive whole.
Spotify: https://open.spotify.com/artist/5Sd5njwwrybp7T88tEXmHo
Joy Division's influence can be felt throughout the EP. From the singular physicality of the rhythm section to the mournful guitars that gracefully glide through. Instrumentation like the sparkling cadence of the piano further add to this quality. Quite spacious soundscapes, they also draw from more modern groups. Pieces of Interpol's playbook appear throughout from the slow yet steady tempos that further emphasize the dramatic to the unexpected twists and turns of the cinematic flourishes. Beyond this, the lyrics oftentimes draw from the yearning passion of Depeche Mode's storytelling capabilities.
Things start up on a high note with the crystal clarity of the anthemic opener "The Darkest City". Quite lush the atmospherics wash over the listener. On the flip side of this approach is the driving intensity of "Fluorescent". "Simple Plan" slows things down to a languid pace. Within this expressive work they hit a high point for the EP, as the song's tension is allowed to build and build until it becomes positively symphonic. With soaring guitar and insistent piano work "Echoes" expands out into the infinite for they cover such vast geography, as the vocals have a fire behind them. Incorporating a surprisingly tender folk ballad into the fray is the spirited bloom of "Always Tomorrow". Nicely embodying all that came before it is the patient persistent "Daybreak" which brings things to a close.
"Flagship EP" reveals Continua to be masters of their craft, sculpting a truly classic, timeless sound.