The Jess Novak Band released their fourth album on Sunday, September 27 to a sold-out Nelson Odeon crowd in Cazenovia, NY. The album, boasting six songs of power and honesty, is the fiercest JNB album to date. While 2017's "Fireworks & Fairytales" swam around themes of fantasy, "Standing Now" is firmly rooted in reality, talking about real-world issues and showing off the new band lineup.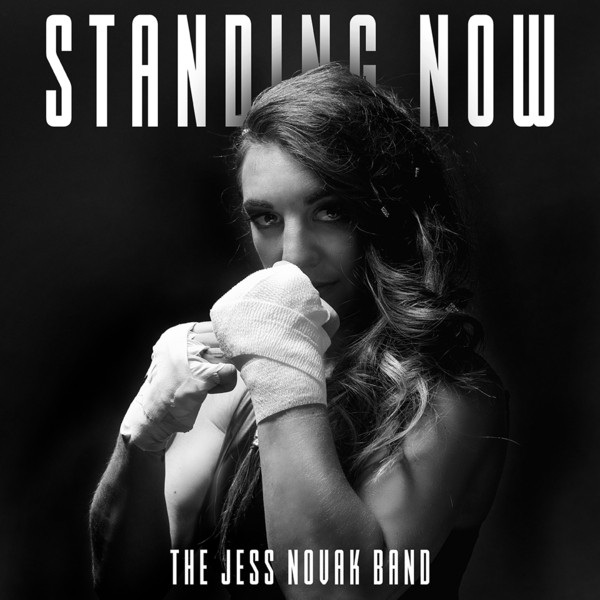 While the disc pounds along with two drummers on full kits, percussion, electric guitar, acoustic guitar, trumpet, violin, piano, bass and layers of soulful vocals, it also dips down to all-acoustic with the track, "Beg", allowing Novak the opportunity to whisper with vulnerability to the listener. The contrast of sounds and size creates an album with texture and nuance, the most sophisticated from JNB yet. Lyrics are thoughtful and poetic and the musicianship hits new highs between the virtuosic Anthony Saturno (guitar) and Nick Fields (trumpet).
Audio: https://open.spotify.com/album/1bHRkXgFErk2Av2q8gFxwe
Novak hits her stride in her honest lyrics and her emotional vocal delivery, drawing listeners into her world with each breath. Whether backed by a wall of sound or sitting alone at a piano, the power comes through in the words and execution rather than through force, a true lesson in musical communication.
"The theme of the album is consistent throughout the songs," Novak says. "'You thought I'd take this lying down / well, bitch I'm standing now,' may open up the disc, but 'Beg' is just as powerful. To realize that you are worth more than a relationship that requires you to beg requires so much strength. To know that you need to stand up for yourself and say something is sometimes more difficult than anything."
Though 2020 may be a drought for some, it's only offered Novak and her team the opportunity to stand out with more music and more energy than ever. Novak performs on Twitch five times weekly and the band is set to join her for a show on Saturday, November 28 at 8 p.m. EST. Catch it live at twitch.tv/jessnovakmusic.