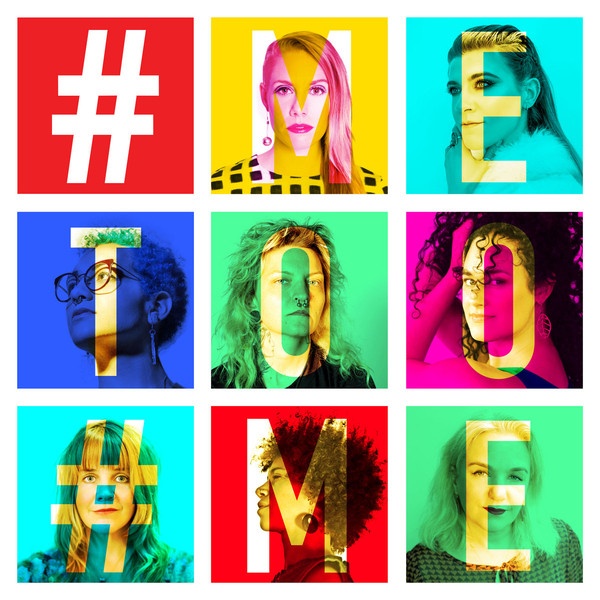 Ashleigh Still delivers a deeply felt message on the defiant "Not Fuckin' Around". From the gentle grace of the guitar to the slight nods to dub, there is a quiet celebratory triumph that radiates throughout. Bass perfectly lifts the sheer strength of her vocals emphasizing her carefully chosen lyricism.
The pastoral ode of Lydia Liza's "Apple in My Pocket" feels outright gorgeous. Symphonic in its ambitious chamber pop, the instrumental richness of the arrangement has a living breathing quality. Her vocals have a smooth lush quality as they build up in unexpectedly satisfying ways.
Raw and real, Mary Bue sings from the heart "How to Forgive Your Rapist". Lyrics have a sharp poignant quality. By keeping things to the essentials her bluesy fire rushes forward for her storytelling feels profound.
Fundraiser: http://charity.gofundme.com/metoompls
Distrokid: https://distrokid.com/hyperfollow/metoompls/metoompls
On "Like It's Gospel" Sarah Morris sings with poetry. The sly buildup gives it a timeless classic take. Effortlessly blending slide guitar into the folk musings, the song has a spaghetti western quality to it unfurling with such grandeur.
Soulful to its very core, Annie Mack's "Judge and Jury" has a tremendous, life-affirming presence to it. Lyrics possess so much force behind them. The string section has a graciousness to them with fiddle weaving themselves together into a colorful tapestry.
The spacious swaths of "Sum Parts" shows off Linnea Mohn's persistent patient demeanor. Cyclical in nature the piece has a hypnotic quality to it. Quite powerful its understated beauty speaks volumes.
Energy pours forth from Mayda's riotous burst with "Oxygen Tank". Funky synthesizers perfectly mesh with the sheer muscle of the groove resulting in a driving pulsing rhythm. All of it feels so radiant possessing a wide slew of neon-hued bliss.
A lovely swirl engrosses the whole of Tina Schlieske's "What Would You Pay (Dear Harvey)". The depiction of a life stolen away accurately captures the power of the #METOO movement. Haunted melodies linger on long after the piece has ended.
Nicely going for a late-night flavor is Chastity Brown's aptly named "Afraid of the Night". Perfectly capturing the fear that once came with the night there is a bit of resilience and hope that underpins the message. Her voice conveys a sense of comfort where previously there was none.
Ang Oase sings with such sincerity on "Breakup Song (ft. Christin Light)". Layer upon layer is applied with an impressionistic hue. Small details here matter the greatest from the dusty edge of the sound to the sweet tender melody.
Quite satisfying in scope the majestic aura of Annie Fitzgerald's "I Know a Sound". Virtually a force of nature her voice has a steady calm, determined to progress forward. Rhythm has an understated yet powerful quality while it steadily increases the intensity.
Tremendous energy blooms with Elska's rallying cry of "On the Shoulders of Giants". Small flourishes amplify themselves enormously becoming quite epic in their scope. Keyboards intermingle to create a sense of pure celebration.
Pop punk ethos reigns supreme on r0 (static panic)'s "Sides to Lonely". Akin to origami the song folds and unfolds into itself. Neon-hued pop shoots straight from the heart as the beats embrace a dance-rock tempo.
Fantastic fanfare anchors Katy Vernon's call to arms of "Shine". Sung with such sun-drenched joy the work is a pure piece of triumph. Every single element further adds to the martial groove as it rolls on through.
Kara Laudon revels in an intimate sound with the spaciousness of "I Do". Pure love flows forth from the piece as the piano keeps galloping on forward. Melodies glisten in the autumnal air.
Graceful guitar licks intermingle with Averil Bach's carefully chosen lyricism on "Radiation Blues". Lyrics focus on a desire to reject the wretched ones, those who have lied and cheated their way through life. With her razor-sharp focus she says no longer.
JØUR goes for a cleverly paced piece with "Won't Stop Me Now". Nicely bridging the space between folk and industrial, the song twists in unexpected ways. Despite the aural chaos her crystal-clear voice shines on.