Harrison Avery aka DJ Hello loves all types of music from A-Z and pretty much everything under the sun. His latest EP, 'Hello', focuses on the wonderful world of electronica with elements of dance, EDM and dubstep along with other styles of digitized music. The listener will hear DJ Hello honing in on his craft on 'Hello' as the wheels are turning!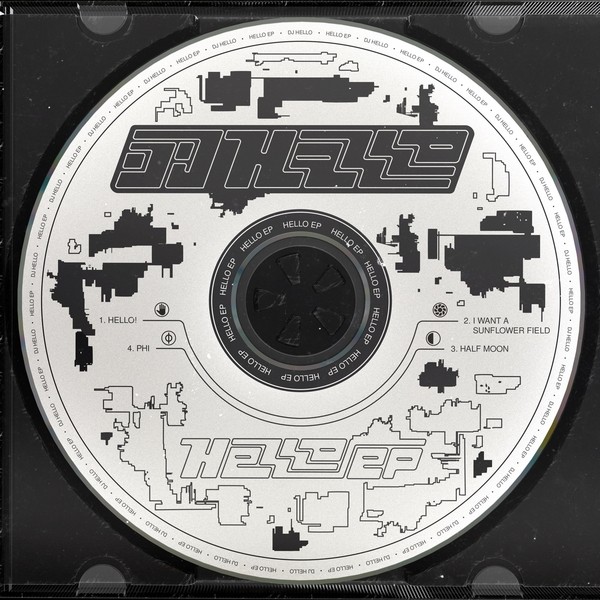 The new release was mastered by Dominic DiPalermo for Seven Six Records and also features Brad Aiken on saxophone, Matt Twombly on Rhodes piano on track two and Anne Stott on vocals on track three. 'Hello' is an excellent introduction for DJ Hello that showcases his skills on the 1s & 2s and is just audio overload. DJ Hello proves he is a beast on the turntable spinning out tunes like a champ. There are four tracks on the latest EP and each one has its own, distinct flavor.
DJ Hello kicks things off with the title track, "HELLO!", that is a deep house mix with bold bass. Say "HELLO!" and just wave your hands like you just don't care! Next up we have "I Want A Sunflower Field" that has such a snappy beat and a number that truly blossoms from start to finish. This jazzy hop-step track supplies a smooth style overall and suave sax playing making "I want A Sunflower Field" the ideal musical garden. Track three, "Half Moon", offers up a killer hook where you will be riding the techno wave right onto the dance floor. DJ Hello wraps up the set with "Phi" that provides an electronic groove that will make you bounce up and out of your seat.
DJ Hello has a lot to offer and brings a lot to the table on his latest EP. With electronica styles clashing and numerous sounds colliding, 'Hello' is hitting on all the right notes. Only thing left to say here is: Hey DJ Hello, Spin That Wheel and Don't Stop!
By Jimmy Rae (https://skopemag.com/?s=Jimmy+Rae)
https://twitter.com/HarryWAvery