Jim Stanard is a talented singer/songwriter who has a knack for storytelling as you will hear when you listen to his new album titled 'Color Outside The Lines'. This is Jim's second album with his debut release coming back in 2018 with 'Bucket List'. Jim proves that he is a true wordsmith on 'Color Outside The Lines' by bringing each song to life with creative & imaginative lyrics. The record is also musically rich as Jim Stanard is throwing all sorts of colors at you, so prepare to soak it all in!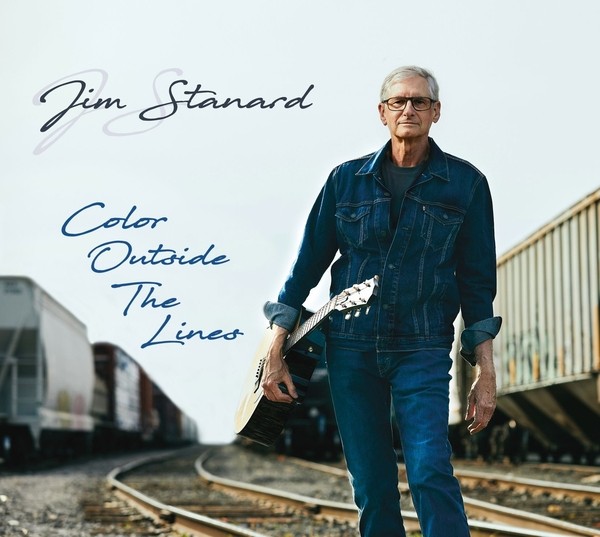 Jim Stanard is once again working with Grammy-nominated producer Kip Winger along with Afghan Whigs guitarist Jon Skibic. 'Color Outside The Lines' also features Peter Yarrow of Peter, Paul & Mary and his daughter, Bethany Yarrow on two songs. Peter Yarrow had this to say, "I was startled by how much the sound of Jim's voice, combined with mine and Bethany's, reminded me of Peter, Paul & Mary. It made me proud to feel the legacy of that spirit live on, especially because Jim's songs carry a similar message".
The 11-song set starts up with a welcoming tune that you will immediately embrace, which is called "Home" featuring Peter and Bethany Yarrow. It's "Home" Sweet Home for Jim & company as the earthy tone will have listeners wanting more. Get ready for a rush of realism on "Same River" that provides a steady flow of full-bodied substance. Track three, "Witness Protection", is an upbeat jam that offers good times and fun vibes. "Witness Protection" is worth celebrating as Jim delivers a solid performance that can be witnessed by ALL; Nothing to Hide Here! Next up, you will want to roll the dice on "One Time In A Row" because you will have a winning hand every time. The lovable melody will you suck you right in on "One Time In A Row"; don't try to fight it! Track five, "Arkansas", once again includes Peter and Bethany Yarrow and what a bang-up job overall on this song. Get ready to head down south to "Arkansas" where Jim, Peter and Bethany are painting a vivid scene of interesting characters and a clever setting. Moving along, we hear a catchy jangle that will instantly pull you in and prove that this is "Fake News" worth tuning into. On the title track, "Color Outside The Lines", youthful innocence collides with adult conformity. Hopes & dreams come alive once again on this bright song where you will discover that it is perfectly fine to "Color Outside The Lines". On the following number, "When My Truck", the listener will find that this tune is rolling along at a Sunday speed. The overall feel is calm and pleasing one and it's safe to say that "When My Truck" runs like a dream. Track nine, "Each Other's Minds", is soft 'n' subtle while also supplying words of wisdom about relationships. You will want to listen closely to "Each Other's Minds" and don't say a single word because you just may learn a thing or two in the process. On "The Opium Wars", Jim is firing off strong notes that leave a lasting impression and then the album closes with "Soft And Gentle Smile", which gives off a warming sensation that will brighten your day.
Jim Stanard has a way of crafting the perfect song through mindful lyrics, stellar musicianship and original vocals. The combination is an absolute treat and listeners everywhere will find joy in hearing all of the wonderful textures on the new record. Jim Stanard encourages you to 'Color Outside The Lines' and so do I!
By Jimmy Rae (https://skopemag.com/?s=Jimmy+Rae)