Chicago's own Misha Swain is coming out swinging on the mic with her latest release titled 'She'. The new EP features 8 blazing tracks that highlights Misha in a dominating fashion. This savvy rapper proves that she can own the stage and rhyme with the best of them on 'She'.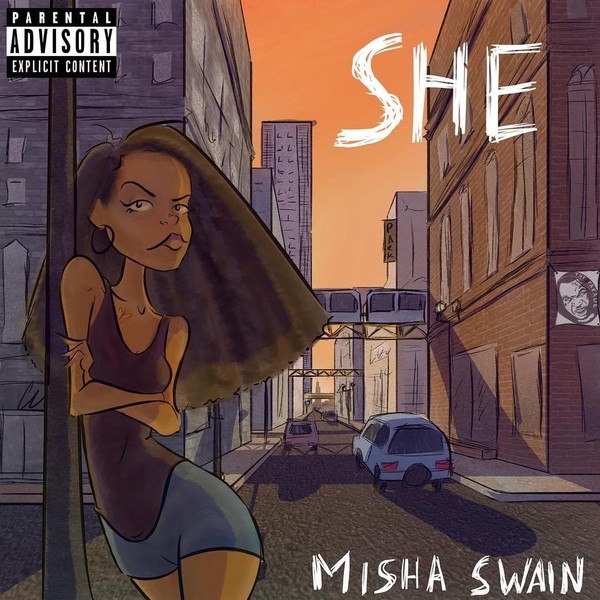 Misha Swain worked with Grammy-nominated producer Philly Swain on this new album and together they created a beast of a record. Misha is pulling out all the punches and not holding back as 'She' let's everyone know just who 'She' is. And just who is Misha Swain you ask? Well, I'd say 'She' is one driven artist who won't quit and won't stop. With that unstoppable mindset in place, watch out music world!
The EP starts off on the right page solidifying the fact that Misha Swain is a true "Bad Ass" on the microphone. The listener will immediately pick up on that confident attitude on "Bad Ass" and also hear a smooth rhyme flow from Misha. "Bad Ass" invites you into her neighborhood where 'She' is the champ with slick, street swag. The next song, "Blah Blah Blah", will make you Bounce, Bounce, Bounce with one bangin'and slammin' beat. This track will make you "Shake Ya Ass" (Mystikal) and Misha will show you what she's working with… "But watch ya self"! (Mystikal) Misha Swain is bringin' the heat and holding it down on "Whole Squad" where she is performing with authority. Track four, "Dog Pound (Feat. Philly Swain)", has Misha barking up the right tree by biting back against the competition. The listener will get hit with rough, rugged & raw beats & lyrics on "Die Slow" where you will not want to mess with this lyrical assassin, Misha Swain. Get ready for a hot, dance hook next on "Chicago" that truly has a spicy flavor to it. "Chicago" is a Windy City jam that is blowing away all of the haters/critics. Track seven, "One of One", has Misha delivering the goods all day and all night long with no exceptions. The album ends with "Pimp" where you will step off and step up to Misha Swain who is calling all the shots.
The confidence is pouring out of Misha and I really respect that factor. Misha Swain performs with direct purpose and her No-Nonsense approach is heard loud & clear. I look forward to seeing where Misha Swain heads next musically, but in the meantime enjoy the BIG, Bass mixes that only 'She' can claim.
https://www.instagram.com/mishaswain/
https://open.spotify.com/artist/4d2enGk6bxyyqgeB7LYnEq?si=afp18Br9ScqUq5Ko0Dwl_Q
By Jimmy Rae (https://skopemag.com/?s=Jimmy+Rae)