Many people say you have to have faith and one thing is for certain and that is that this particular Faith is hitting all the right, heavenly notes! This young Indie artist is dropping her debut single/video titled "Sweet Fantasy" and what an utter delight it is! It's hard to believe that this song is Faith's first, official release because she performs and sings with such poise. Get ready to sink your teeth into this delectable treat that is "Sweet Fantasy".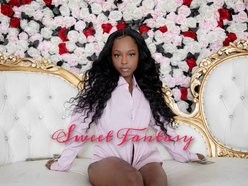 Faith has been involved with music ever since she was a kid and started a girl group at the age of eight. The music bug was alive and well for Faith at a very young age and that fire from within continues to burn to this day. This single is setting the stage for her upcoming EP called 'Lanmou Island' that is soon to be released. "Sweet Fantasy" is an excellent introduction into the world of Faith showcasing this sassy vocalist in all her glory.
As soon as you hit play, this listener will pick up on a club-worthy beat that will make you want to clap your hands and snap your fingers. Faith displays BIG, soulful chops that truly shines through on the track. Faith gives a silky, smooth delivery vocally on "Sweet Fantasy" that will just melt in your ears. This song is Flavor overdrive with one jumpin' hook that will satisfy your musical palette.
Faith is strong right out of the gate with her new single/video, "Sweet Fantasy" and is sure to attract many listeners from all walks of life. You can SKOPE out the official music video right here and brace yourself for one sensual & flavorful performance:
Faith looks to climb the music charts with "Sweet Fantasy", so don't forget to have a little Faith now and everything else will be alright!
https://www.instagram.com/faithreneemusic/
https://twitter.com/FaiReneeMusic
https://www.reverbnation.com/faithreneemusic
https://soundcloud.com/faithreneemusic
By Jimmy Rae (https://skopemag.com/?s=Jimmy+Rae)