Billy Jeter plays and sings deep on "Sins Of Me," a single from his upcoming release Shineye Landing. And to my surprise it is an easy to swallow master work of sorts, and that is because after researching Jeter as an artist it helped to know more about him to understand where he is really coming from. The place where the Jeter family name is known, not just any place to dwell in America, but the actual heartland of the blues. The authenticity of "Sins Of Me" comes from that territorial factor and in Jeter's case it is Arkansas country.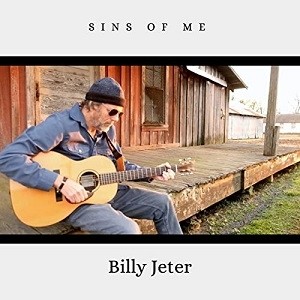 "Sins Of Me" is a combination of the blues and folk of the distant past and the rock and pop of the current music culture where veteran artists do what they do best and they make up the rest. It's not easy to stay in the public eye playing the old traditional stuff without giving your audience something new, it's how any original artist keeps a good following. Jeter should be more well known outside Delta circles, but he could be for all I know, it's just my first wind of him and I like what I hear and glad to find there is more.
I have not enjoyed a new blues song since the early 90s, but I have enjoyed a few blues-rock tracks from artists like Jeff Healey who made top 40 radio once upon a time, but Jeter fits a mellower format. That is not to say it isn't up to scratch with contemporaries, it's just a think market for that and Jeter makes his living playing live, as most do over and above records. "Sins Of Me" plays as if there is an audience right in front of Jeter, so it conveys the live spirit his fans are used to seeing.
Singing about the rigors of the tour life is nothing new, but it can be overdone but Jeter concentrates on the tried and trueness of less is more and it goes a long way as it usually does. The open book style of the lyrics help demystify but also don't give everything away as they serve to simply tell a story anyone can relate to. "Sins Of Me" has a number of qualities rarely found in today's country and blues scenes, and it would sound remarkably current on FM radio stations from local to abroad.
The fine banjo playing is weaved with slide guitar, but also notice the keyboard presence in "Sins Of Me," because they really enhance the song and do so in a sneaky but beautiful way. Jeter cuts to the bone when it gets down to the nitty gritty, and that edge is what makes this track work without forcing any ideals down the throat, so to speak. "Sins Of Me" happens to go the other direction and attempt to naturally heal instead, at a time of uncertainty and hope for a brighter future. It speaks volumes in that one department alone.
Gwen Waggoner