Steve Markoff's alto flute, Patricia Lazzara's flute, and Allison Brewster Franzetti team to re-interpret Ennio Morricone's composition "Gabriel's Oboe". Culled from Morricone's score for the 1986 period-piece movie The Mission starring Robert DeNiro, this tribute to the Italian composer's considerable talents. The pairing of Markoff and Lazzara has been successful before and will continue to do so for many years to come, but this humble and low-key performance represents a peak of sorts for this duo and their mutual endeavors. They are both highly praised musicians and Lazzara, in particular, has nine solo albums on her discography alongside other releases such as 2019's Timeless with Markoff. They are currently putting the final touches on their next joint recording Romances in Blue, scheduled for a fall 2020 release.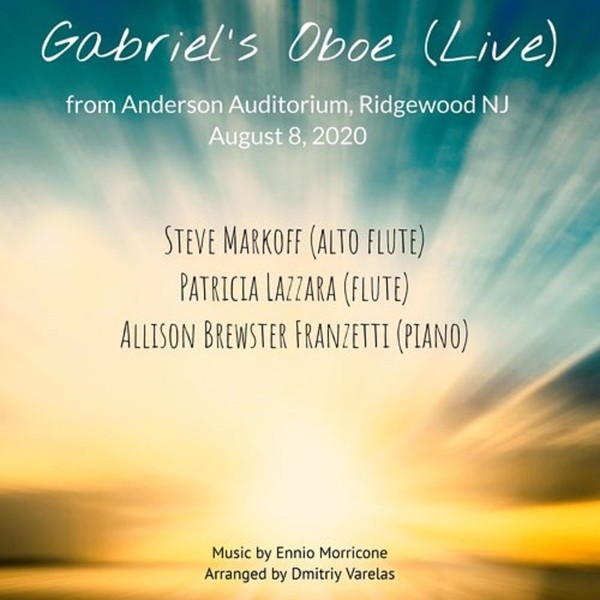 MORE ON THE DUO: https://www.lazzarkoff.com/
It is unmistakable that Lazzara and Markoff share a kind of musical telepathy. Their interweaving flute lines are complementary without ever figuratively stepping on each other's toes and pianist Franzetti finds her place in the musical mix without any overt effort. It is always nice to hear a musical effort with such an utter lack of arrogance. The three musicians play with each other rather than juxtaposing their efforts against one another and the recording of this performance does a good job of documenting their live outing for posterity. The performance dates from August of this year and proceeds derived from the show are earmarked for the Randolph Regional Animal Shelter in Mendam, New Jersey.
There are various understated dynamics working themselves out over the course of this cut. The playing and Dmitry Varelas' arrangement orchestrate the track into an assortment of peaks and valleys, gradually changing melodic lines, and weaving a dream-like state for listeners of every ilk. I can say with near certainty that, even if you don't normally enjoy classical music, "Gabriel's Oboe" will have a big effect if you retain an open mind. They do not treat Morricone's composition like a beautiful butterfly pinned under glass but, instead, like a living breathing work that demands re-invention.
We need music like this in times like these. As family members, friends, and acquaintances reel from a pandemic, struggle to make ends meet, and continue following their dreams while Presidential candidates lie, squabble, and wallowing in the mud, there is something truly redemptive about this re-envisioning of Moricone's classic piece. This is music whose only agenda is elevating the human spirit. Politics, cultural fashion, and other time-bound factors do not matter here. Only what is timeless remains and you can hear it in the music.
NAPSTER: https://ar.napster.com/artist/patricia-lazzara-steve-markoff/album/gabriels-oboe-live
Steve Markoff and Patricia Lazzara's "Gabriel's Oboe" is one of the best brief classical pieces released in recent memory. The loving care the two principles, with piano player Franzetti in tow, bring to bear on this track make it a memorable listening experience from the outset and ensure it will linger in the memory long after the final note fades. Take advantage of this moment and enjoy some genuine musical class in an era sorely lacking such moments.
Gwen Waggoner
The music of Patricia Lazzara and Steve Markoff has been heard all over the world in partnership with the radio plugging services offered by Musik and Film Radio Promotions Division.  Learn more https://musikandfilm.com