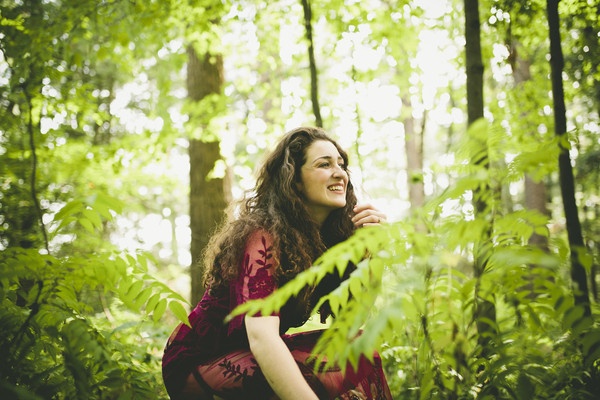 Hillary Reynolds is a vibrant singer/songwriter who has graced us with her touching performance on the blessed, new single titled "What Faith Is". The song is all about hope and "What Faith Is" is a bright spark in today's wild world. For Hillary, she stated that "faith is at the foundation of my resilience and also that faith and trust are kindred", which is filled with the utmost sincerity & honesty.
J Rae: First, I wanted to say that I am very excited to hear about your brand new single titled "What Faith Is"! How did this song originate and how has the overall response been thus far?
Hillary Reynolds:
I wrote "What Faith Is" because I needed its message – I needed its medicine. At the beginning of the lockdown in LA, like a lot of people, I was hanging on every next news article. It became a main source of anxiety. Gathering information, reading all of the emerging data, which became fear-inducing spirals. The PPE shortages really capped it all off. Then, I started seeing little pockets of rural communities, specifically, Waupaca, WI, suddenly step up, and take matters into their own hands. An online community emerged comprising mostly strangers. They would have Zoom meetings and began a coordinated effort to source materials and make masks for their local hospitals and communities. They would use bins in a church parking lot to drop off elastic, fabric – all the necessary materials for people to grab their supplies and start making masks. People even started taking elastic from their fitted sheets at home to make more masks, as elastic became extremely high demand. Really, there's so much more to this story – but it hit me. They were hope. And that is when I sat on the floor and wrote "What Faith Is." One of the most meaningful responses I've received since the song has been released was from someone in Cedar Rapids, Iowa who has recently lost his mother in the pandemic, and now his father is in hospice. On top of that, an incredibly destructive storm tore through Cedar Rapids. Once that happened, he said he started questioning his faith. After watching the video for "What Faith Is," he was reminded how important it is not to lose it.
J Rae: Faith is obviously very important to many people around the world, but would like to know what faith means to you personally?
Hillary Reynolds:
I think faith and trust are kindred. I find my faith through trusting that there's something better on the other side of something devastating without knowing the path to get there.
J Rae: This is your first solo release since your 2012 self-titled debut EP and wanted to ask how you think your music and sound has evolved since that time?
Hillary Reynolds:
When I released the EP in 2012, it was a product of dealing with losing my mom to breast cancer complications in 2011. While she was in hospice, I started writing songs and after she passed I continued to write about my grief. That release was therapy for me. Vulnerable, raw – the journey of loving my mom through her passing and beyond. I'm a different person on the other side of her passing. My music has evolved and changed since then as well. I've also just been writing more for other artists since then.
J Rae: I couldn't help but notice that you were a co-writer for one of Little Big Town's latest hits from their 2020 album, 'Nightfall'. I have to ask what it was like working with Little Big Town and are they as cool as they appear to be in the music video for "Pontoon"? :)
Hillary Reynolds:
I co-wrote that song with two of my best friends in LA. We actually didn't write with the band! They heard our demo and recorded the song for their record. They are all such dreamy people in their own way. The three of us finally met them back in February when they were out in LA for the Grammys. Felt like we were just saying "hi" to old friends.
J Rae: What was the name of the song you co-wrote for Little Big Town and what inspired the lyrics?
Hillary Reynolds:
The song is "Next To You" and I couldn't tell you what inspired the lyrics. We were just trying to write something honest.
J Rae: You have worked with plenty of talented professionals in the music industry including many collaborations and so the Skope Universe would love if you could tell us about some of your fondest moments so far?
Hillary Reynolds:
I think some of my fondest moments always happen when I'm with my co-writers and we finally crack a song open. There's something euphoric about that. It never gets old. I've also loved my experiences writing for film. Being shown the scene and creating a song on the spot to fit the vibe. It's a fun challenge and really great to collaborate with film composers for those moments.
J Rae: There is also a video for your new track, "What Faith Is", and wonder if you could tell all of the Skope readers how the idea came about to shoot this video? Can you also share a link to the official music video?
Hillary Reynolds:
I knew I wanted to put together a time capsule of some sort to honor our heroes – those on the frontlines, the mask makers who inspired the song, neighbors etc. It felt like a timely message to share. It also felt like a video that could add a little hope to the world.
J Rae: When looking at a visual aide for "What Faith Is" vs. just purely listening to the single, what are some noticeable differences for you and how do you think viewers & listeners will react to both mediums?
Hillary Reynolds:
I think the production of the song was really wrapped around the idea for the video. I wanted it to have a more cinematic build and support all the images that were being seen. There's a warmth in the recording that I hope listeners feel held in.
J Rae: I saw that you are originally from Wisconsin and I'm certain this Midwest area is so much more than just simply the "Cheese" state. What makes Wisconsin special to you and how does this state stand out from the rest? But I do have to ask if you like cheese and if so what's your favorite kind? :)
Hillary Reynolds:
Honestly, there's nothing like a Wisconsin summer. I've been living here since the end of June. The pine trees, the lakes, the cabins. It is a dreamy place to be. I've been either fly fishing or swimming most days I've been here. I can't get enough of it. Cheese. Oh man, I'll try to keep it brief – lately, I'm obsessed with a basil farmer cheese that I got at this little three generation family-run cheese shop. There's also a cheddar called "Steve's cheddar." It is excellent and you can usually buy that at most grocery stores in Sconnie.
J Rae: Will "What Faith Is" eventually be featured on an upcoming EP or album? And how are you currently promoting "What Faith Is" to the public?
Hillary Reynolds:
Right now, "What Faith Is" is a standalone single. I had no motive besides releasing this song and having proceeds from it go directly to The Loveland Therapy Fund. The fund provides financial assistance to Black women and girls nationally seeking therapy. Interviews like this have been so great to help spread the word! Promoting without being able to tour/perform has been a big shift, as I'm sure it has been for everyone.
J Rae: What is the one, most important concept or idea you hope listeners will pick up on when listening to "What Faith Is"?
Hillary Reynolds:
Hope!
J Rae: I always end the interview on a positive note and with your song mentioning faith, what a perfect way to finish. Do you feel if more and more people lived by faith everyday, we would begin to see an overwhelming amount of positive change in our society? I guess what I'm trying to say is how important of a factor is faith when looking to live a happy, productive life free of all negativity?
Hillary Reynolds:
This is hard one to answer – I'm not gonna speak for anyone else, but myself. That said, I think faith is one piece of a complex puzzle – and it's exposed when all feels lost. Suffering and negativity are part of life and they actually help define all of the good. We can't escape negative experiences and emotions no matter how hard we try. We can numb ourselves but it doesn't make the pain disappear. Even though we're going through a lot of dark times on so many levels right now, I believe we're more resilient than we know. We're all so unique and different. For me, faith is at the foundation of my resilience.
https://www.hillaryreynolds.com/
By Jimmy Rae (http://www.skopemag.com/?s=Jimmy+Rae)