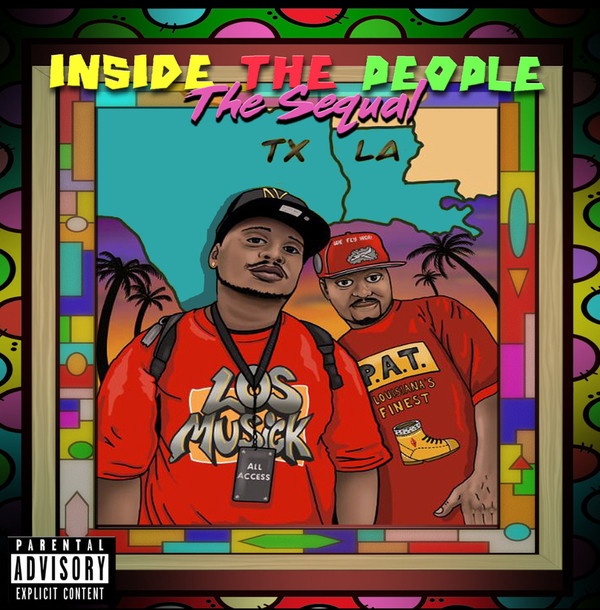 Los Musick/P.A.T. Louisiana's Finest delivers a timeless confident sound on the fantastically funky "Inside The People: The Sequel". A true joy to behold they jump genres with gleeful abandon. The stylistically tour-de-force races from classic rock to G-Funk to hip-hop. Within a singular song they manage completely defy listener expectations for their ear for melody is unparalleled. Lyrics show off an impressive mastery of storytelling. Best of all are their fiery flows that virtually race through. It is these very vocals that help to tie the entire EP together in a way that becomes uniquely theirs.
Audio – https://open.spotify.com/album/4g93CED3BgIZ1sJ7Dg9QGM
A true sense of play radiates throughout the whole of the EP. With clever wordplay and an affectionate series of character studies, they recall the completely hybrid nature of Outkast. Similar to Outkast they too forgo easy categorization, choosing to constantly switch up their approach. Everything about the EP possesses a self-assurance, a sort of swagger that taps into the confidence of Kendrick Lamar's "To Pimp A Butterfly". By bringing these old-school and new-school displays together they craft something truly gorgeous.
"The Get Money Story(feat Daalight)" sets the tone. Featuring a wild, Parliament-like sly groove the song's infectious quality has a tremendous power to it. A nimble rhythm skitters about on the sheer physicality of "Brick House". Fully embracing the club the tempo has an infectious, low-slung quality. Bass stuns for it helps anchor the whole thing. "How I Feel" goes for a hyperkinetic energy. Usage of filters further adds to the ebb and flow of the track. By far the highlight comes from the frisky fanfare of "Superwoman" which features an incredibly celebratory spirit. Minimal electro flavors filter through the neon-hued headrush of "Soul for Real (feat. KXNG Crooked)". Samples get warped and stretched out to their breaking point on the shuffle of "Ya Like (feat. T.Lae)". Perfectly closing out the collection with a tremendous sense of triumph is the infinite chill of "Winner".
"Inside The People: The Sequel" shows off the undeniable chops of Los Musick/P.A.T. Louisiana's Finest in exploring their own bright, brilliant world.