Really big things are happening in the pop music genre right now thanks to the advent of studio technology in recent times, but some artists – like Taylor Colson, for example – are keeping their aesthetical approach to the craft rather simple and subsequently yielding a substance of riches in their work. Colson's new single, "Hurt Me," is perhaps the perfect cocktail of simplistic songcraft and elaborate sonic frills, the best of which are infused directly into the lyrics as to facilitate a grander narrative. "Hurt Me" is self-aware and brooding pop balladry for the big kids, and it's definitely one of the more intriguing tracks of its kind to have hit my desk lately.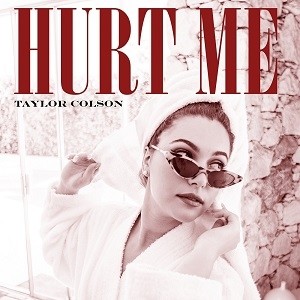 INSTAGRAM: https://www.instagram.com/itstaylorcolson/
Colson definitely strikes me as the type of performer who doesn't even need a band behind her to captivate a room, and through the isolated stylization of the vocal here, we get a good idea of just how potent a show of strength she can unleash when she sees fit. There's a moderate instrumental element serving as the backdrop in this song, but other than that, the spotlight is always transfixed on her and her alone. She's got the it-factor, and that's more than obvious when listening to "Hurt Me."
As far as the harmonies are concerned here, there's something quite haunting about most every moment they occupy the airspace around us. The natural tonality of Colson's vocal making contact with the keys in the background is definitely enough to send chills down my back every time I sit down with this track, and although she's far from the lone female crooner to have caught my attention lately, hers is a far more inspirational and powerhouse-style of performance than most any I've reviewed in the last couple of months. The skill is off the charts, as is her charisma in general.
The prose behind the lyrical style in "Hurt Me" is another component of the chill-factor the song enjoys in spades, but I don't think there's ever a moment in which we're baited into paying more attention to the structure than we are the intricacies of the execution. Colson doesn't give us the option of straying from her gaze, particularly in moments like the chorus, and she isn't utilizing a sharp hook as her exclusive weapon of choice. She's got a multifaceted set of abilities here, and she's being cautious in exploiting it without coming off as too creatively liberal.
ALL MUSIC: https://www.allmusic.com/album/hurt-me-mw0003408176
"Hurt Me" is a fantastic look for Taylor Colson, but if there's one thing it's provoked within me as critic, it's wanting to hear a collaborative effort from this singer/songwriter in the near future. You can tell there are elements of her style that have yet to be properly tapped into, and with the assistance of a veteran behind the glass, I haven't any doubts as to whether or not we could appreciate her talents for everything they're worth. She's one to watch for sure, and once you check out "Hurt Me," I think you'll be saying as much and more.
Gwen Waggoner