This MC from New York is just simply relentless! Flippin' Gothic Fabp consistently churns out track after track with no end in sight! I've been fortunate enough to listen to many of Fabp's songs over the years and review the material. What I can honestly tell you is that Flippin' Gothic Fabp is constantly evolving as an artist and working tirelessly in the beats lab with his pen, pad & sharp mind. Flippin' Gothic Fabp delivers catchy hooks & thought-provoking lyrics at the drop of a hat and his new release titled 'Real 2 Reel' is no different.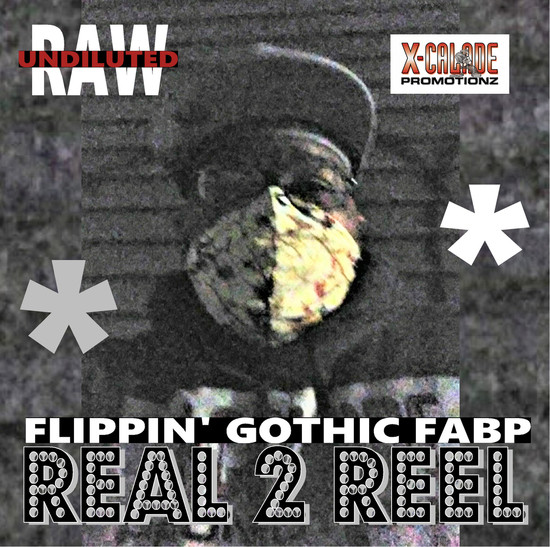 With 15 blazing tracks on 'Real 2 Reel', there is a little something for everyone! Each song has its own, unique flavor made possible by the super original, underground rapper Fabp. As soon as you hit Play, the listener will get hit with an incredibly raw edge on "Stages of Name". On this number, Flippin' Gothic Fabp is keeping it fresh with endless beats and relevant lyrics. Next, we have "Pillow Roxy Flow" and can say that there is absolutely nothing sleepy about the cool, Fab flow here. Track three, "Nice Fly Day", proves that Flippin' Gothic is keepin' it fly, which you can't deny! We hear "Crystal Flossing" up next that shows Fabp in a dapper light where he is stylin' & profilin' on the mic. Track five, "Freestyle Bulldawg", has a real, bangin' bite to the hooks and seems to be barking up the right tree. "Freestyle Bulldawg" allows Flippin' Gothic Fabp to turn into the Freestylin' Fanatic that spills rhymes until the sun goes down. Make sure to be "Productive" each and every day as Fabp urges people to do your thing and never quit; accept nothing less! Fabp decides to go with a more playful tone by keeping it loose & fun on the juicy track, "Taste Like Mi Mango". Flippin' Gothic Fabp gets in touch with his sensitive side on "Sing This Softly" where the listener experiences more of a delicate touch but always done in Fabp fashion. On track nine, "Money Out There", Flippin' Gothic is "gettin' it and not sweatin' it" as he looks to grab the stash and get his hands on the cash. What you will hear next is 100% genuine on "Sentimental Real" as Flippin' Gothic Fabp is coming correct! On track 11, "Tomahawk Sally", Warrior Mode is in full effect as Fabp claims to be a mighty "visionary". Get ready for an "Early Night" that gives off a mystical-type vibe and offers an unorthodox approach. "Early Night's" mysterious sound will keep you on the edge of your seat from beginning to end! Prepare to reel in the goods as we are "Going Fishing" next with your Lyrical Skipper, Flippin' Gothic Fabp. "Going Fishing" is the catch of the day as Captain Fabp has you hook, line and sinker! On track 14, "I'm Saying Life", the NYC, indie rapper is giving US real life rhymes to live by and urges ALL to "never give up". Flippin' Gothic Fabp goes out with a big bang on "Summertyme Blues" with an in-your-face & direct delivery.
Things continue to heat up for Flippin' Gothic Fabp as the relentless rapper doesn't know or accept the word quit. With hot beats and well-designed lyrics, Fabp has his foot on the gas and is not letting up! 'Real 2 Reel' is another success for Flippin' Gothic Fabp and so I can't wait to hear what will surface next! In the meantime, enjoy these new cuts from Flippin' Gothic Fabp and be sure to check out all of his previous releases below.
https://x-caladepromotionz.bandcamp.com/
By Jimmy Rae (https://skopemag.com/?s=Jimmy+Rae)