The life of Des Cox is an interesting one to say the least, and it would take a lot of space to cover it all but the five tracks presented so far for a future double album can be covered along with some of it. This is no ordinary artist, Des Cox is well known to many in the fields of music, film, and television in which the arts are full of. I almost got lost in researching that and other ventures he's been involved with over the years, so it is highly recommended to visit his website for more about him.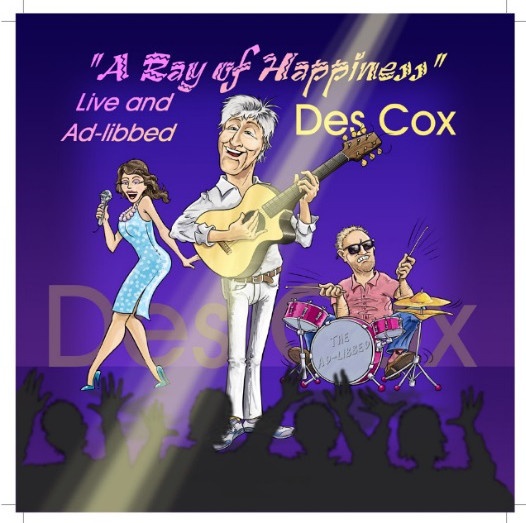 For an artist who's done countless things in the area of performance and behind the scenes, Des Cox was not a name I had heard until now, so it just goes to show what there is to know. But plenty know the name and what it's been good for all along, and that is what matters the most as I familiarized myself with some of his work. "In My Day" puts it all into perspective within the first few bars, and it also set the mood up well to listen to this track first, and I could listen to it over and over.
"Summer Rain" is quite a bit more musical and actually quite mystical between the male and female vocals, stripped back acoustic guitar and some heartfelt lyrics. Everything is very raw and relaxed, with birds chirping for an outdoorsy effect which is enjoyable and very soothing to the ear. I like the way it all intertwines together and makes for a pretty love song without overdoing anything in the process on this terrific folk song Cox describes himself as something to look no further than inside yourself for. It's all about happiness and where to find it.
MORE ON DES COX: https://www.snowbow.co.uk/author/des-cox
"Silence" is about being all alone out there in the wilderness with nothing but your thoughts to hear, and it's another timeless piece of music with more excellent lyrics about being deep in the forest and letting it all hang out. The idea is to drift away and let the silence surround you and the visions and more sounds of nature take you away instead. And there's more here than it seems at first, so with every spin it just manages to get better and better as this song sinks in with proper time to allow it to do the business.
The double album title is A Little Ray Of Happiness and "Here I Am" shows yet another side to the musical approach of cox, with another love song but this one more personalized to the listener, backed by some stunning strings. The female vocalists name escapes me, but her voice never will, so it should also be said that Des Cox is not alone here, and he is backed by a great female voice and they sound perfect together. And "At The End Of The Day" explores and old traditional war tune which feels like it runs longer than it does, which is a plus for any good song on this performance style album.
Gwen Wagoner
The music of DES COX has been heard all over the world in partnership with the radio plugging services offered by Musik and Film Radio Promotions Division.  Learn more https://musikandfilm.com