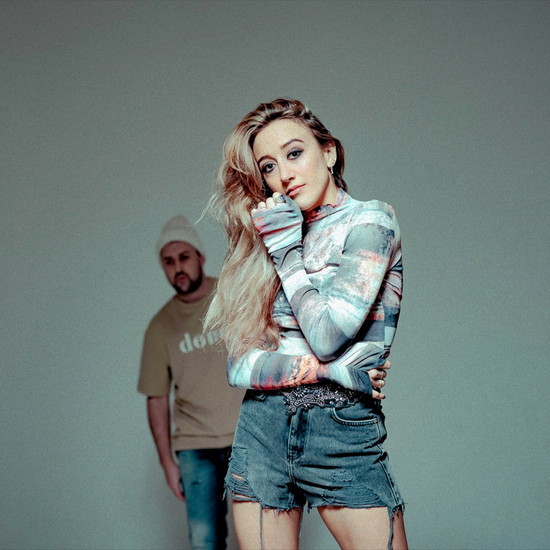 Moodbay, renowned for their unique shade of electropop, are back with another enigmatic hit this summer. Hailing from the North East, Moodbay's Alfie Cattell and Anna Stephens have been making waves across the industry with their intuitive blend of genres, creating their self-professed 'moodpop'. As with all of the duo's releases, Moodbay's new single has captured the attention of journalists and music fanatics alike. Following the band's startling debut, 'Listen Up', and the radio success of 'Alone', Moodbay's latest release, 'Like Nobody Else', has been spotlighted on BBC Wales' A Playlist and has featured as BBC Intro Tees' Track of The Week. The uplifting and festival vibe of this impressive release definitely makes 'Like Nobody Else' the perfect track to listen to as we enjoy the late summer sunshine
Initially inspired by Botticelli's depiction of the windswept Venus emerging from the sea, 'Like Nobody Else' subtly expresses admiration of a beautiful human soul with reference to the world-famous painting: 'I could frame you and admire all your imperfections', 'I feel the heat as I dream of you out in the ocean'. The skilful fusion of Alfie's innovative production and Anna's unforgettable vocals creates a memorable, dreamlike pop tune which will have you singing along in no time. With pounding drum lines, a powerful 80s-inspired synth and harmonious echoes, the song is enthralling and passionate; the duo's enthusiasm and talent is palpable throughout.
Already gaining impressive radio popularity only a month after the single's release, 'Like Nobody Else' is on track to becoming a much-needed summer anthem. Relatively new in their journey into the fast-paced world of the music industry, the success of 'Like Nobody Else' is an important signpost of this duo's talent and potential. Their future, it seems, is deservedly, exciting.
Follow them on Instagram: http://www.instagram.com/moodbaymusic
Find out more about Moodbay: http://www.moodbay.com