Tom Houston is the singer-songwriter bringing the sweet sound of folk back into our playlists. Whilst providing the perfect soundtrack for a melancholy summer stuck in your garden, Tom Houston's upcoming single is a pivotal moment for the singer-songwriter, as he continues his musical journey with his fourth studio album 'Gap In The Fence.' Having spent over ten years as the front-man for the band 'davesnewbike,' Tom is an old hand in the music scene and this ever-growing experience is undoubtedly present in his expertly crafted upcoming single 'I Am The River #33'.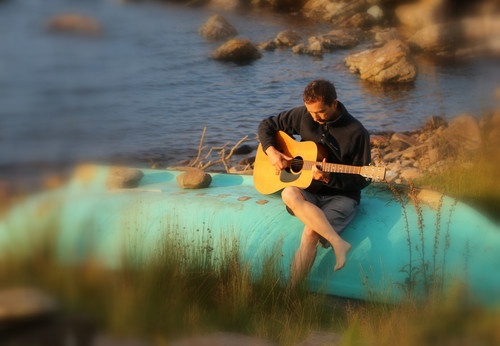 Follow Tom on Spotify HERE: https://open.spotify.com/artist/26rtAkczPM2iqJSJ6Ozvr5
'I Am The River #33' is a gentle journey through Tom's admiration for the majestic beauty of running water. Self-professedly, Tom has always felt connected with water and in this track his connection manifests itself into a captivating folk song rife with catchy melodies and elegant guitar riffs. Lyrically, Tom draws on the astounding story of the Te Awa Tupua river, which New Zealand granted all rights of a legal person back in 2017. This unique story lends itself to Tom's signature poetic lyricism and effortlessly charming vocals. With elegant cello motifs flowing throughout the song, the string-heavy backing perfectly embodies the ebs and flows of the river Tom is serenading. Mary Erskine's accompanying vocals add a tenderness to the song's intimate nature, complimenting Tom with outstanding, intricate harmony. Kate St. John's piano accompaniment adds brief moments of tension, then delicately eases us back into the steady toe-tapping pace of the track; the listener is but a leaf floating on the river of Tom's creation, swaying with the varying currents of the band's genius.
'I Am The River #33' is Tom's second single off his upcoming album 'Gap In Fence' which will float into our ears this October. As a gap in the fence would often lead a young Tom Houston into some sort of adventure, this third studio album is the next exciting step in Tom's solo ventures in music. Collaborating with the folk legend Neill MacColl, Tom Houston's signature folk style is elevated as 'I Am The River #33' gifts us a four minute, beautifully-crafted, winding journey through Tom's poetry; and if Tom is the river, then we're excited to be riding the wave.
Tom Houston's upcoming single 'I Am The River #33' is out this July 31st 2020. His album 'Gap In The Fence' is released October 2nd 2020.
http://www.tomhouston.org / tomhoustonmusic@gmail.com
By – Sasha Davies