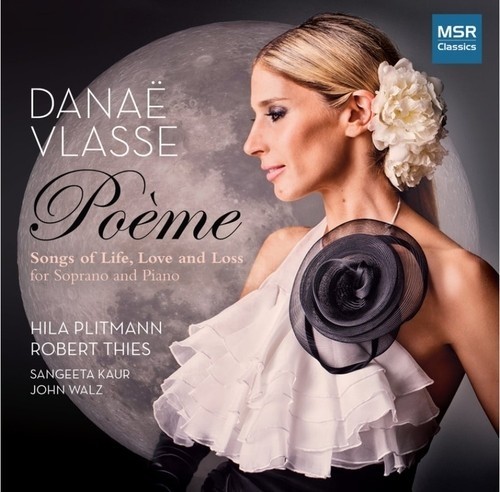 A delicate touch to delicate music, Danaë Vlasse offers fragile pieces of pure poetry on the lovely "Poeme". Classically inclined, the music she creates proves to be a sheer force of nature. She delivers each line with the utmost of care and compassion. By opting for such a gorgeous take, the way the entire album works together feels majestic. The instrumental vibrancy further lends the album a colorful hue for the melodies richly waft into the air with the greatest of ease. Literary references abound for the entire album is heavily influenced by famous poets and artists, helping to give the music additional poignancy.
Impressionistic piano begins the album with "Le Baiser". Her voice has an operatic beauty to it. Easy to get lost in "Barbara" makes the decay of the piano chords matter. Nearly Debussy like in terms of their evolution, there is something emotionally charged about its living, breathing manner. By far the highlight of the album its tenderness lingers in the mind. On "Un Lendemain" things swirl about in a blissful aura while the entirety of the piece grows and grows. By far the most ambitious track on the album "La Mer" has a reflective poignancy to it. "Rêverie "La Lune"" features her voice in the best way possible by keeping everything else to the absolute minimum allowing her words to truly soar. Nicely bringing things to a close is the magical "Sérénade de Verlaine".
Album Liner: http://www.danaevlasse.com/poeme-lyrics.html
"Poeme" shows off Danaë Vlasse's impressive skill in crafting a sound that feels so refreshingly unique with an approach distinctly her own.