Alias Wayne has political thoughts on his mind, which he expresses with his new EP Firebrand. This six-song project opens with "Radiation Town," his commentary on climate change. The song is a funky rocker, colored with organ fills. Wayne's point is that the weather's hot now, hotter than before, which he believes is caused by global warming.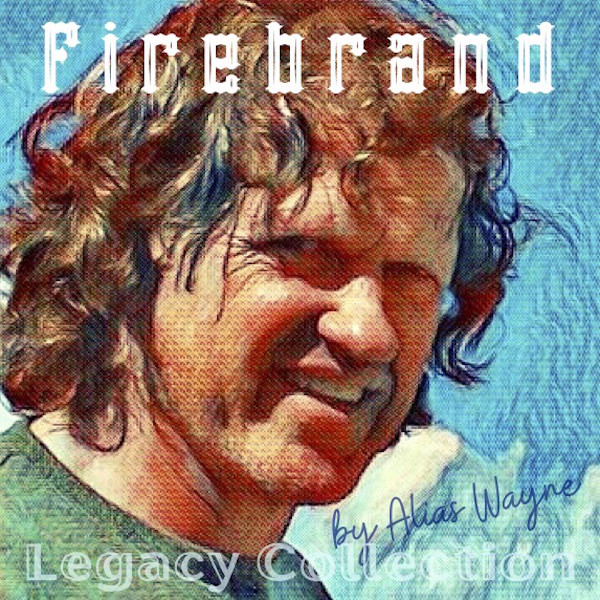 With "The Young & The Brave," Wayne switches to something a lot more sonically stripped down. For this one, Wayne sings over an acoustic piano. The track features little more than piano and vocals. Lyrically, it's a character study. The song finds Wayne saluting an individual that is – as its title states – both young and brave. Sadly, many times political activism wanes as folks grow older. It's why the drive and enthusiasm of young people is so essential. Greta Thunberg is a prime example. Although still a teenager, she's spoken before governments, and called them on the carpet, so to speak, for their environmental sins. Who knows, Wayne may even have Thunberg in mind with this song.
STREAMING ALBUM:
https://open.spotify.com/album/3MdDg5zk78nsT5jZFDhagy
In contrast, Wayne reaches back many years for his cover of "Fixin' To Die Rag." The original version was called "I Feel Like I'm Fixin' to Die," and was recorded by Country Joe & the Fish. In fact, the song's originators played it at Woodstock, which should give you a good idea of the song's old age. Wayne has updated the song's lyrics to include lines about Afghanistan and Iraq. Well, even that's a little outdated, but at least it's more current than singing it as an anti-Vietnam War song. The song is built around a relatively simple arrangement, with mainly electric guitar backing. Wayne also puts an effect on his singing voice at one point.
Wayne is joined by a female co-vocalist for "Give Me My Freedom." Stylistically, this one retains a strong similarity to Dave Matthews Band. It bumps along joyfully, even though it carries with it a serious political message about fighting for freedom.
"Real World" opens with upfront electric guitar. It's seemingly directed at young people, yet it includes some rather cynical lyrics. "Don't get upset now, child/Your time will come/Then you can grow up and die." Granted, this one is not nearly as tragically sad as Richard Thompson's "The End Of The Rainbow," but it's by no means upbeat. However, it sure is different from "The Young & The Brave," which admires young people and encourages them to act bravely. The point of the song appears to be to draw a comparison between what we as humans are taught (which is sometimes overly positive), and what life is actually really like. This sounds to be the thoughts of one who has become disillusioned by the way life really works.
https://www.facebook.com/ranzelxkendrick/
Alias Wayne doesn't mince words in his songs, which is probably why he's titled this project Firebrand. These lyrics are confrontational and intended to make the listener think. You may not agree with Wayne's politics, but you can't argue with the quality of his strong rock & roll instincts. Hopefully, his example will lead you to want to be brave and speak out, too.
-Dan MacIntosh