David K. Mathews is certainly no stranger to the music world as the current keyboard player for the incomparable Santana plus he formerly toured with the band Tower of Power and spent 20 years touring with the great Etta James.  Along the way, David has performed with many accomplished artists/musicians and this new project is a true testament to that fact.  'The Fantasy Vocal Sessions Vol 2.' is a follow-up to 'Volume 1' that focused more on Jazz standards whereas this album includes jazz arrangements to popular Soul, Pop and R&B tunes.  The end result is nothing short of spectacular as David K. Mathews has breathed new, invigorating life into these classic numbers.  Songs that many of us know and love now have a new voice; actually many voices thanks in part to David K. Mathews and his talented roster.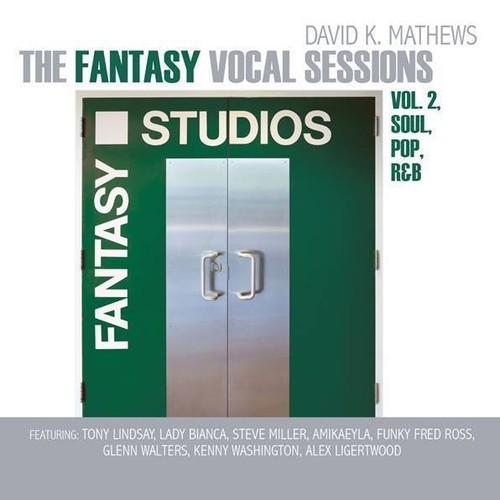 'The Fantasy Vocal Sessions Vol 2.' is actually a salute to David's stomping grounds, San Francisco, and also to the memorable Fantasy Studios where much of this album was recorded.  There are so many super-talented & well-known musicians and singers on this record including fine vocalists such as: Tony Lindsay, Lady Bianca, Steve Miller, Amikaeyla Gaston, Funky Fred Ross, Glenn Walters, Kenny Washington and Alex Ligertwood.  What David K. Mathews & company have created here with 'The Fantasy Vocal Sessions Vol 2.' is simply pure magic in a crystal, clear bottle with no trickery and no gimmicks.
The 11-track recording session starts up with a glowing song titled "For The Love of You" that features the dynamite chops of Amikaeyla Gaston. "For The Love of You" was originally done by The Isley Brothers and Amikaeyla proves to be one smooth operator with a voice like butta!   Amikaeyla Gaston also shows up again on Stevie Wonder's "Super Woman" where you get such a delightful tone that instantly draws you in.  This "Super Woman" is flying high and not coming down anytime soon, so play on!  We get to hear Amikaeyla one last time on track nine, "Wichita Linemen" by Jimmy Webb where Amikaeyla Gaston is sailing across the verses with ease as Captain of this vocal vessel; she is owning the mic!  Gliding along, we get to hear an artist that is the frontman for one of my favorite groups of all time, Steve Miller Band. Steve Miller adds his vocal/musical prowess to Rudy Toombs' "One Mint Julep" that proves to be one jivin' jam!  Steve Miller's vocals on this track sync up perfectly with the style/sound of "One Mint Julep" and what you get is a groove that is simply infectious.  Next, David K. Mathews has a current bandmate by the name of Tony Lindsay join him on two special songs, Donny Hathaway's "You Had to Know" and Ray Obiedo's "So Sweetly."  Tony Lindsay has spent the last 25 years with Santana and brings some sensational soul to these two numbers.  On "You Had To Know", Tony is just soulful to the bone giving the audience every ounce he has inside.  On track five, "So Sweetly", how sweet indeed is this song with such a gentle touch that packs a powerful punch.  Get ready to get down with your bad self on "I Got You (I Feel Good)" originally done by the Godfather of Soul himself, Mr. James Brown.  Funky Fred Ross handles vocals on the James Brown classic and even though Funky Fred had some big shoes to fill, he delivered with flying colors! The listener will want to get up, shake around and just move instantaneously to the beat of "I Got You (I Feel Good)".  This song is sure to put to you in a fantastic mood, so don't try to fight it damn it and just go with it—FEEL GRAND!  The listener is introduced to a wonderful vocalist by the name of Lady Bianca on Van McCoy's "Giving Up".  There is no quit from Bianca or the instrumentalists on "Giving Up", as you will receive a gripping performance and relentless effort here.  Track eight, "Going Out Of My Head", offers a classy 'n' cool take on the Little Anthony and the Imperials original as vocalist Glenn Walters adds a nice, crisp touch.  Moving along, we have "I Love You More Than You'll Ever Know", which is Al Kooper's anthem from Blood, Sweat & Tears' 1968 debut album, but his version is inspired by a later legendary recording by Donny Hathaway.  On "I Love You More Than You'll Ever Know", the listener is introduced to another artist by the name of Alex Ligertwood who sings with the utmost sincerity on this track and has such control with his voice.  David K. Mathews ends the set with an ultimate gem that you may have heard of; "Yesterday" by the one and only Beatles and written by Lennon and McCartney.  Kenny Washington supplies his masterful vocals on "Yesterday" that are just fine as wine and so incredibly soulful.  This is such a unique twist on the Beatles song and I can say that "Yesterday" has been gifted new, profound light that will shine on today, tomorrow and forever.
I don't normally tend to label works of music as masterpieces, but in my humble opinion 'The Fantasy Vocal Sessions Vol 2. Soul, Pop, R&B' is pretty darn close!  David K. Mathews has come up with outstanding arrangements that perfectly complement the timeless tracks while also honoring and respecting the sheer integrity of the original compositions.  The overall instrumentation on this record is just so tight and spot on and the vocal performances are superb.  David K. Mathews is set to release three more Volumes with Vol. 3 focusing on blues and Vol. 4 highlighting Afro-Cuban and Brazilian music.  I am an instant David K. Mathews fan, so I can't wait to hear what's next for the multi-dimensional artist!  To end, I will say that this is no fantasy land folks but actually a vivid reality of reimagined and redesigned songs in the key of Soul, Pop and R&B.  Through the creative lens of David K. Mathews, 'The Fantasy Vocal Sessions Vol 2.' is a true treasure that can now be discovered and appreciated by the general public.
http://www.facebook.com/dave.mathews.16
Amazon – http://www.amazon.com/dp/B086Z7XKJ1
By Jimmy Rae (https://skopemag.com/?s=Jimmy+Rae)