The Sidleys are a band headed up by the husband and wife team of Annie and Steve Sidley, and are based in Washington, DC. Annie Sidely is the act's focal point, as she's its lead singer. Whenever they perform together, these shows are oftentimes family affairs, with sons Sean, Colin and Ian also joining in. Breathless is the act's third full length album, following Bittersweet in 2013 and The Love You Make, which was issued in 2017.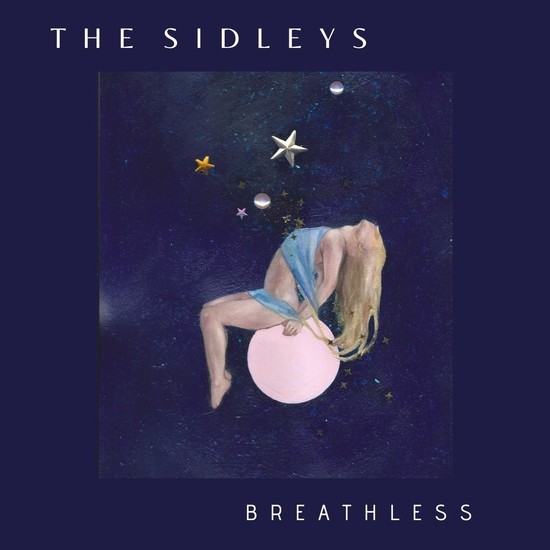 While Annie does most the lead singing, multi-instrumentalist and songwriter Steve provides much of the soundscapes over which Annie sings. Annie was already an established artist before The Sidleys began, having released three solo albums and touring across the country. Sean Sidley, one of three sons, plays drums, Colin, the second son, is a bassist, while the third of 'their three sons' is a keyboardist. It almost seems as though they planned it this way, with all the essential band elements covered. And yes, they have been compared to The Partridge Family a time or two.
While this act categorizes itself as an alternative band, the music on Breathless is not all that 'out-there.' One titled "Lullabies," for instance, is pretty, comforting and nicely Beatle-esque in a lightly psychedelic sort of way. The album's title track is a gentle, mostly acoustic, ballad. It is sparsely instrumented, which gives Annie plenty of room to showcase her lovely singing voice. It's so pretty, in fact, it may remind you of Crowded House during their heyday – albeit with a female lead singer.
Audio Link: https://www.thesidleys.com/
&
https://www.reverbnation.com/thesidleys/album/255329-breathless
While The Sidleys especially shine during ballads, "Unbroken," one of the album's more rhythmic tracks, and one that puts the spotlight on Steve's electric guitar skills, reveals the act's softly soulful side. This track also reveals some pretty group vocals. While Annie sings most of these songs, Steve sometimes takes the lead. He does this most notably during "Undone," which is also a beautifully orchestrated track.
Annie Sidley sings soulfully throughout, but on "Sweetest Hush" she goes all out soul on a decidedly soulful song. It features a slow jam groove, electric piano, and group vocal. It's a large, enjoyable swath of supper club soul. It is the prettiest track on the album. This one is followed by something entirely different. "Crown Victoria," which features Steve again taking the lead, is an anthemic electric guitar song. In its own way, though, it's also a pretty track.
Unlike TV's Partridge Family, which stuck with 'safe for prime-time television' music, The Sidleys create memorably sophisticated pop music. They point to influences as diverse as Stevie Wonder and the Beatles. On the surface, that may seem like much too wide a range. After listening to this eleven-song album, these two inspirations make much more sense. The Sidleys are just as comfortable singing something with a soul groove, as they are with laying something British Invasion influenced down. Their team, consisting of an inventive instrumentalist and a striking led singer, is an unbeatable combination. Indeed, some moments here just might leave you breathless. It is one strong album.
http://www.instagram.com/thesidleys
-Dan MacIntosh