A thematically adventurous exploration of sound emerges on Jude Gwynaire's carefully crafted narratives of "Lemonhead Drive". Without needing to say a single word a story arc begins to form. This is displayed in the number of rather playful song titles and uniquely crafted themes. Still heavily focused on a dreamier side of experimentation, with "Lemonhead Drive" he hones his art going for something quite poppy. For the overall spirit of the album, he dives into a futuristic Britpop. Heavily versed in electronica, he incorporates elements of chiptune, jazz, lounge, komische, and more in a heady mix.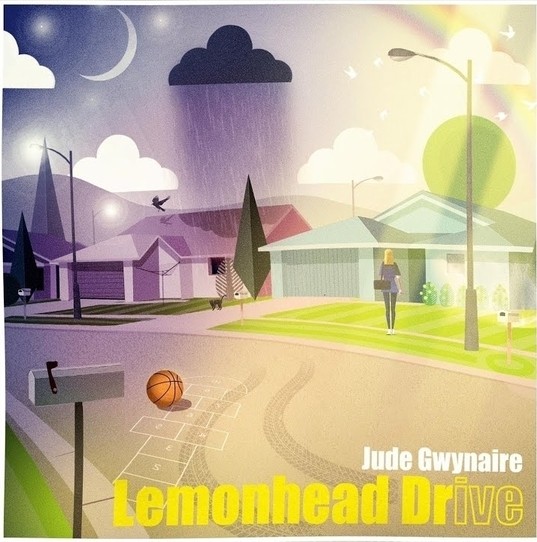 Stylistically he draws from a surprisingly wide array of latter-day psych pop artists. Of Montreal's disco theatrical flair emerges throughout the whole of the album while he plays with textures in unexpectedly blissful ways. Rhythms too capture a degree of giddiness for they morph in unexpectedly luxurious ways. On his more progressive rock elements, he brings out a bit of MGMT's latter day sonic somersaults. Layer upon layer adds to the rich depth of the overall experience as it has a light and airy lushness. For the gentle disposition, he draws from Broadcast and Stereolab's post-modern pop flair.
Spotify link: https://open.spotify.com/album/70Nc5V6vCsAf4lCHJ2WFcD
"Erin Walks the Dog Wearing Bubblegum Shades" sets the tone for what follows, featuring carefree guitar work. A yellowed nostalgic ode rushes through the heartfelt "The Street Where Tammy Lives". The John Carpenter vibes of "My Day-Glo Garden" features incredible cascading drones. Incredible arrangements define the stately aura of "A Sacramento Affair". Weird wonderful grooves gain a hypnotic effect on the trippy "Dark Ferris". On "Don't Ever Love Me, Ginger" he embraces a woozy, off-kilter sort of jazz. "Lockdown Dream, Pt. 1" features an acid attack reminiscent of Evol's laissez-faire attitude. By far the highlight comes with the unhinged presence of "Big Deal in Electro City" which marries elements of glam rock and electro into a satisfying whole. Contemplative in tone is the thoughtful "Storm over Minneapolis". Neatly summarizing all that came before it is the twists and turns of "Hail the Dead Presidents".
"Lemonhead Drive" proves to be a bright, burning, and brilliant piece of work, as Jude Gwynaire goes for a wild yet lovely world.
http://www.judegwynaire.com
https://twitter.com/judegwynaire