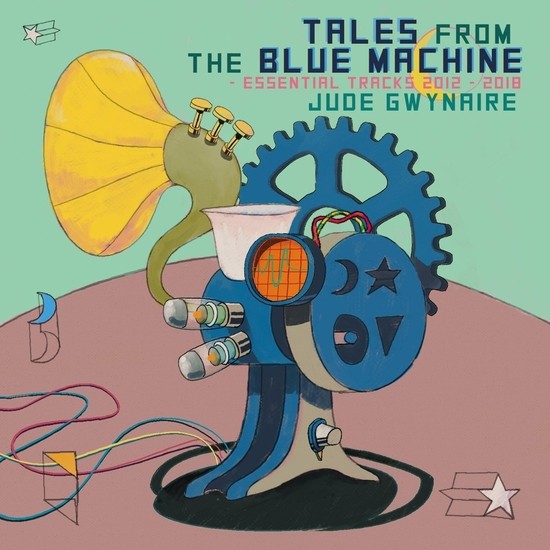 Versatility is king on Jude Gwynaire's "Tales from the Blue Machine: Essential Tracks 2012 – 2018". True genre-jumping ensures a wild exploration of noir electro jazz, industrial, drone, trip-hop, and kinetic acid techno workouts. By incorporating this all within his unique tact he creates a whirlwind of sound one that consumes the listener whole. His flexibility recalls a bit of the "anything goes" approach of Gescom's hybrid compositions. During his more drone-inflected moments he touches upon the otherworldly presence of Zoviet France in terms of its sheer duration and affect.
DSP – https://open.spotify.com/album/2zPKHlWBdU5wM6XpZ2YR6G
Jazzy vamps introduce "Pepper Tree Zen" for the nimble bass works wonders. Weird grooves intermingle on the darkened edges of "We Are Hong Kong" where a hypnotic mantra seems to take hold. An optimistic fervor comes into the fray on the driving rhythms of "Night Flight from Electro City" where a bit of krautrock adds to the expansive, expressive palette. Synthesizers intermingle on the ornate Byzantine patterns of "Dark Ferris". Easily the highlight of the album the way it morphs into new shapes feels powerful. Forgoing rhythm entirely are the nocturnal transmissions of the surreal "Exoplanet". Elements of Bossa Nova take hold on the soothing wash of "The Girl from Pacific Palisades". Crisp jazz tones result in the splendidly playful "Saturn-by-the-Sea". Glowing drone full of light ends the collection with "Streets of the Sacred Heart" as beats further add to the track's joy.
"Tales from the Blue Machine: Essential Tracks 2012 – 2018" shows off Jude Gwynaire's tremendous range for he creates such a vibrant world.
&