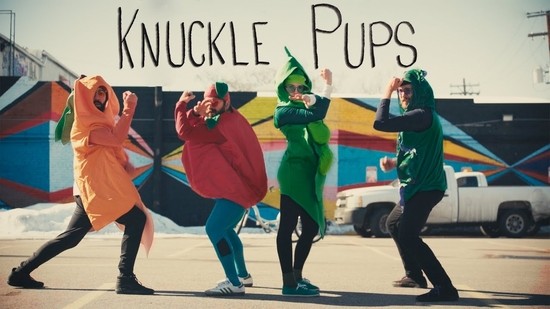 There's a very moreish, anthemic quality to California and a real summer-feel that we are definitely vibing with during this isolated summer.
Knuckle Pups bring a DIY ethic to melodic indie-punk songs. Principle songwriter, Oliver Holloway, crafts contemplative, yet playful lyrics. Sung over thick vocal harmonies on top of catchy song structures. The calculated arrangements of the band serve as an emotional reflection of the raw lyrical subjects and visceral imagery. The songs effortlessly traverse between sweet indie-pop hooks and swelling punk crescendos.
Premiere: https://soundcloud.com/user-152049829/california-42720/s-A5nIcsrgbEN
Growing up in the DIY punk scene with bands like Defiance, Ohio, Latterman, & Ps. Elliott (see: Swearin' & Waxahatchee), while still listening to the indie-rock cannon, including bands like modest mouse, Sufjan Stevens, The Mountain Goats, Mirah, and Neutral Milk Hotel. Principle songwriter, Oliver Holloway, could never pick a side… so he decided not to. Knuckle Pups sits squarely at the intersection of DIY punk – and indie rock.
This is the first single from Denver Indie-pop band Knuckle Pups' debut album. Produced by Rich G. at the Ghost House Studio, the song is a mesh of pop production with a banjo hook and lush vocal harmonies. Oliver Holloway's lyrics evoke strong emotional images, citing Holloway's struggle to balance his role as a caretaker for his terminally ill sister and his artistic vision. The song is furthered by the incredible music video filmed by Holloway's former student. At a mere 20 years old, Jamon Tolbert shows incredible promise with his cinematic film-making skills. The music video for California is a must-see.