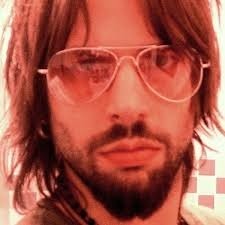 Stylized like a dreamy synth pop ballad but boasting an ethereal, almost atmospheric selection of strings that are firmly in rock n' roll territory, Gianni Bodo's "Hurricanes and Butterflies (Flowers Don't Die)" is a song audiences need to hear this May. Providing us with a great mixture of pop aesthetics and singer/songwriter-style emotionality as always, Bodo comes together with Brigitte Pace for a sensational duet not to be missed in this white-hot release, but vocal virtuosities aren't the only appeal here. "Hurricanes and Butterflies (Flowers Don't Die)" is an expression of surreal love, passion and optimism for a brighter tomorrow, and it uses any means necessary – instrumentation, vocals, poetry, even production handiwork – to get its narrative across to anyone listening.
I absolutely adore the fretwork in this song, and in my initial sit-down with the lyric video, it was what made me fall in love with Bodo's music on the spot. The light overdrive on the strings emphasizes the heart he's putting into the chorus along with Brigitte Pace, and while Pace's melodic accentuation of the hook is breathtaking, it doesn't overtake the lead singer's command of the harmony at all. Everything here has been stacked as to keep us on the edge of our seats from beginning to end, and rather than trying to manipulate a single-threaded groove into a four minute pop song, I think Bodo was wise to get a little progressive with his composing here.
I wasn't listening to Gianni Bodo before I heard "Hurricanes and Butterflies (Flowers Don't Die)" for the first time this week, but I'm sold on his poetic eminence now that I've seen what it can yield in the right circumstances. He's got everything going for him here – the vocal, the perfect partner, a heady rhythm he can straddle with ease and a hook that can melt hearts without even trying that hard. There are a lot of different ways he could potentially bend his style to fit whatever artistic desires he has in the future, but for now, I think he's got one of the sweetest approaches to modern pop music in or out of the Montreal scene.
Gwen Waggoner