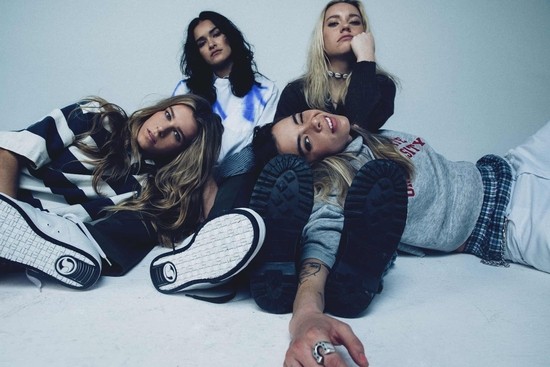 The Aces are at the vanguard of all things bright and bold: sold-out venues, compelling girl power, and organic synergy. The Utah quartet is known for their sparkling indie-pop mixed with an electronic fringe. Singer and guitarist Cristal Ramirez, guitarist Katie Henderson, bassist McKenna Petty, and drummer Alisa Ramirez have been bonded since middle school, and it didn't take long for them to establish their musical affinity. They began performing under the name Blue Aces at teen events but quickly built their prominence after being featured on Provo Buzz and Paste Magazine. To date, The Aces have toured with bands like 5 Seconds of Summer and Coin and solidified a deal with Red Bull Records in 2016.
Phones are great, right? We can have large group chats with our friends and prove to strangers how incredible our life is. It's all fun and games until we obsessively overthink someone's emoji usage and stay up until 3 AM trying to stalk our ex's new partner's friend's mom. Discussing their new song "My Phone Is Trying to Kill Me", which they wrote with Justin Tranter (Selena Gomez, Ariana Grande) and produced by Zach Skelton (Jonas Brothers, Shawn Mendes). The Aces say, "'My Phone is Trying to Kill Me' is a song we wrote about what it's like to be growing up in the social media age. How we are all so addicted to our phones, and how someone leaving you on read can ruin your whole day. We are in a time where we are more connected than ever because of our phones, but at the same time everyone feels so lonely. It's strange, and this song feels like we are kinda screaming those frustrations." Their new homemade music video is a prime quarantine product. Each member is respectively staying home, resting up, and demolishing their phones in any way possible. "Given the time, we're not able to make music videos in the way we normally would, but we didn't wanna let that stop us. So we decided to grab our phones and cameras and take the matter into our own hands and make a little home made music video for 'My Phone is Trying to Kill Me'. It ended up being hilarious and so much fun to make and we hope you enjoy watching it as much as we did making it!"
No matter what they do to their addictive screens (throw it in the lake or flush it down the toilet), it magically reappears to haunt them. Our device obsession can get out of control: we ruin our mood by taking the most insignificant text or picture out of context. Left on read? Tragic. Omitted from an Instagram post? Pitiful. The attachment to screens can be extremely detrimental to our mental health; while the measures we need to do to take a break don't have to be as drastic as burying it in the mountains like The Aces, we should put them down more often to live in the moment.