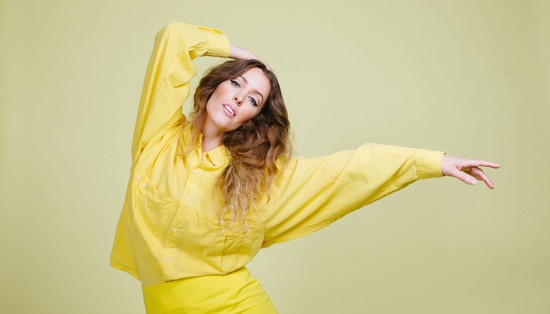 A true creative chameleon, Marie-Clo is a born performer who ropes her audiences into a feverish pitch in both French and English. Singer-songwriter and dancer, her eclectic indie pop tackles current themes & conscious lyrics, but also conjures a colourful and enchanted world.
Marie-Clo is currently releasing a stretch of EPs leading up to her debut full length, Shell(e). A conceptual feminist narrative, it is slated to be fully released in 2021, produced by Polaris shortlisted drummer/ producer Olivier Fairfield (Fet Nat, Timber Timbre, Leif Vollebek), with the support of the Ontario Arts Council, the Canada Council for the Arts, and FACTOR.
Marie-Clo's new single, "Trophy Wife," was originally written as a ballad and went through numerous shifts before it's raw, bold, and uptempo final version that was produced by Fairfield. The song speaks of Marie-Clo's voiceless, nameless time as a hockey wife. As a feminist, she witnessed and lived first hand objectification, double standards, emotional abuse & unsettling normalcy around sexist behaviors within the industry her partner thrived in. Unfaithfulness was simply the unoriginal cherry on top of a patriarchal sundae.