So here we are – Memorial Day – USA – and a happy one to all – and to others outside the USA – a happy Monday! Today we have another artist who comes to us via the great state of New Jersey by the name of – Matt Cheplic of Splendid Engine. Matt is here today to discuss many things but especially his new EP – These Songs Will Destroy Us – that is out now. So before you hit the road to head home from vacation or opening another bottle of wine with some steak tips on the grill – why load Spotify & give Splendid Engine a listen. Interesting fact, Splendid Engine worked out of Mint 400 Records' studio – The Forest Of Chaos in Hawthorne, NJ with producer/Mint 400 Records owner Neil Sabatino, so you know its stamped and approved.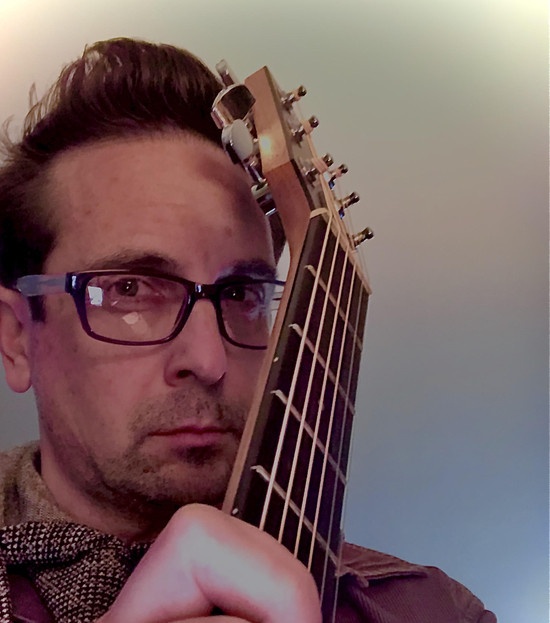 @skopemag: Where are we talking from today and how are you coping with this COVID-19 pandemic?
SE: I'm home in North Jersey, which is where I grew up. I'm a short distance from New York City, and the virus has been ferocious here, so life has been very restricted and strange. Luckily, my friends and family have been healthy; I've been coping with a lot of the things I normally get enjoyment from: music, movies, reading, cooking, online chess, and studying French and Spanish on Duolingo. I miss baseball terribly, but I've been watching the Korean League games, which are interesting.
@skopemag: What side of the coin do you fall in regards to let the people be free or stay safe @ home?
SE: I understand the frustration stemming from the loss of work. I completely get that. But we have a basic, fundamental duty to be responsible with other people's lives and welfare. It bothers me to see recklessness and intimidation masquerading as an issue of "rights," and it's even more troubling to see public officials encouraging that behavior in order to stir up some political momentum.
@skopemag: I love the name of your project, Splendid Engine, how did that name come to be and how does it define your music?
SE: Thank you. The name comes from "Thomas The Tank Engine" — it's used to describe the reliable character James. When my son Luke was little, the Thomas toys, TV series, and DVDs were omnipresent in our house. And that phrase — Splendid Engine — always sounded cool to me but also conjured up multiple meanings. A laptop running music software is a splendid engine. So is a camera. So is a guitar. So is the human brain. I don't want to get too pretentious here, because I'll read this and want to punch myself in the face. But on this album, there was a very deliberate attempt to write songs that could be understood more than one way. In many cases, I was choosing phrases and images while keeping two or three scenarios in mind the whole time. So, I hope there's an open-ended quality to the songs, the same way there is to that name.
@skopemag: You have been involved with music for a long time. Offer us a brief history of how music became your passion and how it enhances your life?
SE: It's hard to pinpoint when that happened. I've been obsessed with music for so long. There's nothing like it. You can be active and create it — or passive and just sort of give in to it. It can be public and communal — or very private. It can inspire action — or be the complement (or even antidote) to an action. It's not technically essential like air or water — and yet life seems inconceivable without it. There was always music in my house growing up, and I knew I wanted to play instruments and write songs very young. Listening to Michael Jackson's Thriller album over and over, hearing upright bass on Stray Cats singles, being stunned by Eddie Van Halen's "Eruption," figuring out what Andy Summers was doing on "Message in a Bottle" … these are some of the seismic early experiences, even though it would be several years before I was ready to perform an original song in public.
DSP – https://open.spotify.com/artist/3rt1zACl4kW63nB1qu3EOB
@skopemag: I was very familiar with The Bitter Chills, is that group still going and what differentiates Splendid Engine?
SE: The Bitter Chills are very much alive, and I've been writing songs for the band's third release. For one thing, that band is much more collaborative: a lot of ideas come from the guys playing together, improvising, messing around in ways that groups do. Plus, The Bitter Chills are more of a roots music/Americana band, a place to experiment with country, bluegrass, folk, and jazz — even though some of our songs fit pretty neatly into that Fountains of Wayne/Nada Surf pop sensibility. And Bitter Chills lyrics rely a lot more heavily on irony and humor.
@skopemag: Really enjoying the new EP – 'These Songs Will Destroy Us'. I know you worked out of Mint 400 Records' studio – The Forest Of Chaos, but how long was it from the writing to recording to release?
SE: Even though the record only contains eight songs, we worked on this for well over two years. There are so many tracks involved, so much layering of sounds. While Neil Sabatino was producing, he made the point that he'd never had so many tracks on a project. Plus, I would keep getting these ideas, like recording the drummers from a high school marching band and then creating drum loops from their tracks. So I was probably driving Neil crazy because I kept circling back to songs and saying, "OK….what if we did this…."
@skopemag: If you could choose one song off the EP to create a music video for – what song and what would the theme be visually to the music/lyrics?
SE: I have this vision for a video for the title track. A young couple, maybe 14 or 15, get dressed up and go to a dance in their high school gym. And as they move around the dance, everyone else around them starts gliding and floating in dreamy slow-motion, and they're getting older and older and essentially living out the span of their lives during the song. I need a lot of talent and resources to pull it off right, but I'm counting on someone showing this interview to Christopher Nolan, who then tells me he's a huge fan and would love to direct this for free.
@skopemag: COVID-19 has shut down the live sector of the music biz for now. Were you involved in the Jersey live musicscene prior and have you or will you do any live shows?
SE: The Bitter Chills played live pretty regularly before the whole world went on Pause mode, and I look forward to playing with those guys again — although it remains to be seen how venues are affected by the virus. It's not clear to me yet how Splendid Engine will manifest as a live act. I don't want to play these songs simply out of a sense of obligation but not do them justice. I have made a couple solo acoustic videos of SE songs for social media, and I may do another.
@skopemag: Do you like the fact that Splendid Engine is your project and you have the final word on the music & marketing?
SE: I do, although I should say Neil was certainly a partner as producer and engineer. His resourcefulness and talent went into realizing these ideas and figuring out how to get all these layers of sound to coexist. But yes — it was fun playing almost all the instruments myself.
@skopemag: When you are not busy with music, what else do you enjoy like family/friends, sports, reading, travel, etc?
SE: I enjoy hanging out with my son and introducing him to movies and TV I love. We're in the middle of an "Arrested Development" binge right now, which is glorious. I read a lot and cook a lot. I've been learning French. I had to cancel a trip to Belgium in July, but now I'm planning a trip to France and Barcelona. And I'm desperately waiting for baseball to return.
@skopemag: Looking past COVID-19, where would like to see Splendid Engine and where should we follow you on social media?
SE: You can follow Splendid Engine on Instagram and Facebook. I happen to think this record would work great in TV and film. I realize those decisions aren't up to me, but I can picture these songs functioning cinematically. Maybe that winds up being a commercial for a product that fights bloating and excessive gas — who knows.