Gareth Koch is an extremely skilled guitarist, and is just as comfortable playing classical music, as he is with rock & roll. His latest EP, Code Blue, includes plenty of sonic textures and fine songs. It raises a lot of good questions.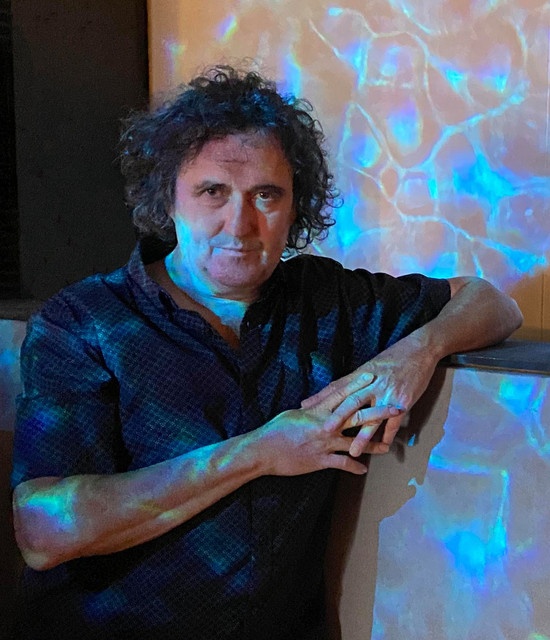 @skopemag – You've recorded with Steve Kilbey (of The Church). How did you two meet and how do you two divide the labor when working together?
A few years ago, I was writing some songs which had a distinct Kilbey vibe to them. So, I contacted Steve via a mutual friend, and we have been writing together ever since. The way our songs take form tends to vary. Sometimes I will bring instrumental tracks into the studio where we then complete the song together. On other occasions a song will bounce to life in the studio where we create it spontaneously. On some days we have written and recorded 4 to 5 songs in a single session.
@skopemag – The outro to "The Flame" reminds me of Johnny Marr's playing with The Smiths. Is he an influence on you and/or this song? With that said, who are some of your primary guitarist influences?
It has been said that the Smiths are influenced by the Church, so this is quite possible. The closest influence for me when writing "The Flame" has been the English fok/rock band Steeleye Span, although this may not be detectable the final outcome of "The Flame."My earliest guitarist influences were flamenco guitarists Paco Pena, Paco de Lucia & of course the great Sabicas. I believe these can be heard in my playing. On the other hand, I admire the playing of Brian May for example, though this influence is probably only distinguishable in some of the guitar voicings I use, rather than in my sound specifically.
DSP – https://open.spotify.com/album/3B0r3bulox5a82lk3lO1fi
@skopemag – You're pictured on your website playing a bass. Do you prefer playing bass on your rock recordings, or did you just happen to be playing bass for this picture?
I have a close connection to the bass which I love. This may be because I conceive of music harmonically, perhaps even more so than melodically. I play most of the instruments on my recordings, although I do get a special thrill when the moment comes to lay down the bass part.
@skopemag – The song "Code Blue" reminds me of The Cure. That band tends to put some of the most morbid lyrics to contrastingly happy melodies. This song sounds like 60s, sunshiny jangle pop, but code blue is the hospital term for someone having died — if I'm not mistaking. What was your thinking when creating this song?
Yes, I know what you mean. A code blue is a hospital crisis situation. I experienced this medical emergency myself which inspired the song. The mood of the song is jaunty & upbeat, but the lyrics provide clues to an underlying seriousness. Looking on the bright side of death, as it were.
@skopemag – You're also an established classical guitarist. Do you approach rock and classical music differently, and if so, how?
Perhaps the best answer is that my knowledge of one informs the other. I guess my guitar playing will always retain a classical overtone, and this is why I find the bass so liberating. My alter ego can play bass in a rock band, while the other persona which has performed and recorded much of the classical literature can also write songs. Maybe there are three personas.
DSP – https://ffm.to/codeblue
@skopemag – "Come Heavy Sleep" is an odd name for a song. Do you suffer from insomnia? What is that song about?
The title is taken from an Elizabethan phrase and also a song by the great John Dowland (1526). In Shakespeare's time the word 'sleep' was often used as a metaphor for death, and Elizabethan composers had quite a thing for it. The aesthetic of 'melancholy' was very much in fashion. Having studied, played and recorded much Jacobean lute music this is one of my big influences.
@skopemag – You've explored a wide variety of musical styles throughout your career. Are there any that you haven't yet explored, but would like to try?
Now that I have crossed the great divided into contemporary music, I am keen to do more live bass playing in an original band, or an established 'heritage' band. I am currently exploring, and to some extent inventing, a hybrid genre in collaboration with Steve Kilbey. We are 're-constructing' ancient pre-Christian music, pre-Mesopotanian even.
@skopemag -Who are some of your lyrical songwriting influences?
It's hard to move past the Beatles when examining great lyrical & musical content.
@skopemag – What can you tell me about the painting on the Code Blue cover?
The artwork is a painting by Californian artist Lucia de Bono. She creates very striking statements in colour, some of which make great album art. We'll working together again soon.
@skopemag – Now that you've finished this EP, what do you plan to do next?
I am about to release a collaboration with Steve Kilbey titled 'Songs from Another Life'. This album re-imagines the music of the ancients. Also last week Steve recorded a solo album on which I played guitars, keyboards and bass. Next project is a 3-way collaboration with Roger Mason and Steve Kilbey. And when life returns to normal, I want to find a great band to play bass with!