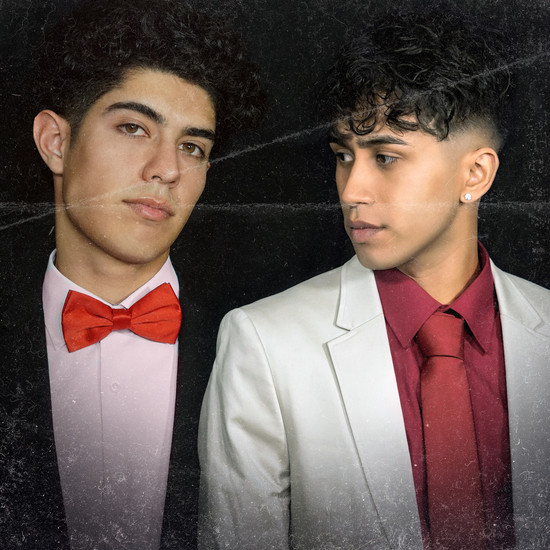 "Bringing Back R&B" — Diddy
Latin American R&B/Pop duo DŌS are heating up the scene with powerful vocals by Isaiah "ZAY" Elizalde and magnetic melodies by Eli "The Kid" Valencia. Their latest track "Can't Get Enough" is on-point, as fans are flocking to the alternative R&B and Pop vibe that's both classic and contemporary—the best of DŌS worlds—sultry slow-jam amped up to signature pop. Audiences of all ages are dialing-into "Can't Get Enough" with its unique versatile sound. The Kid's production is clean and complex, blending Zay's smooth, radio-ready R&B falsetto with modern trap elements and remixed '80s pop textures to form DŌS. Skope Magazine sat down with them, check out the interview here:
Did music come natural or did you both have to learn and practice it?
I think for us, it's both. Music, especially as a talent is something that you have to naturally be blessed with and when you have a desire and passion for it like we have, you can only get to that place of greatness with practice, and lots of it.
What artist can we compare you to and why??
The natural response usually seems to be "no one, we are original"… and although a part of that is true, cause you don't see too many duo's that one is a vocalist and the other is a producer; it wouldn't be smart of us to say we are incomparable. Michael Jackson, Ready for The World, Justin Timberlake, producers like Timberland, Dr Dre, Pharrell and Max Martin are all influences of our. It's in our sound our performance and our approach to the art.
What do you want people to take away from your music?
One of our goals is to create music for every season. What we mean by that is we want to make music thats like a soundtrack to life. When you're feeling lit, theres a song for that. If you're in your feels, theres a song for that, when you're on your wave, theres a song for that etc…
What inspires you to do music?
Music. For us, it's all we need.
Is there someone you wish to collaborate with?
Yes! The Weekends, Drake, Justin Timberlake, Travis Scott co-produce with Timberland, 40 (Drakes producer) that's more than one but we have a big list.
Do you have a quote or theme that you live by?
Walt Disney's quote: All our dreams can come true, if we have the courage to pursue them.
Do you have a specific challenge that you had to overcome, and how did you accomplish that?
I think we are living that challenge right now and we are confident that we'll overcome and accomplish our goals.
What thrills you about playing live?
We've never done a show together. Right as we were booking some shows for a promo tour, the stay at home order came into effect. But we are anticipating getting out there!
If you could tour with anyone on the universe who would it be?
It would be a pop r&b rap vibe so The Weeknd, Drake & Travis Scott there is so much we can learn from them and I think we compliments one another styles etc.
Do you have any advice for the planet?
That's a crazy question to ask. The planet is usually reactive to how we treat it so the advice would be to us living on it; treat the planet good!
What advice for the future pop artist?
Work. Position yourself through your discipline. Nothing is going to be handed to you. There I no such thing as overnight success in any industry. Remember most don't hear about all the fails prior to becoming or doing something great. Stay positive and driven, don't procrastinate and stay in your lane. Don't think you know it all because there is so much to learn. Be open to advice and criticism and lastly be you!
You're on the front page of the newspaper, what is the title of the article and why?
It's titled "THEY GOT NEXT" why,? Cause we truly believe we are. We do not take for granted our talent and any door that opens to us. We are grateful and we worked hard.
What bridges are you glad you burned?
Mental bridges. Bridges that lead to complacency and excuses. Gotta put the work in.. Negativity will kill it. You have to know that no matter what you are doing it for the love of it the fun of it the creation of it. Once you do anything with passion success will come.
What are your social media links?
https://www.instagram.com/wearedos/
https://www.facebook.com/dosmusik 17.
Where can people hear your music?
Interview by Nolan Bellamy