As a fan of real hip-hop growing up, I think back to the Golden Age of hip-hop when old-school rap reigned supreme. Jumping ahead to 2020 and I have to say that I am heavily disappointed with the mainstream rap scene overall. Too many generic, copy-cat artists being pumped out and promoted to the public by the music industry. P.A.T. Louisiana's Finest & Los Musick look to change the game with the new single titled "Real Eyez".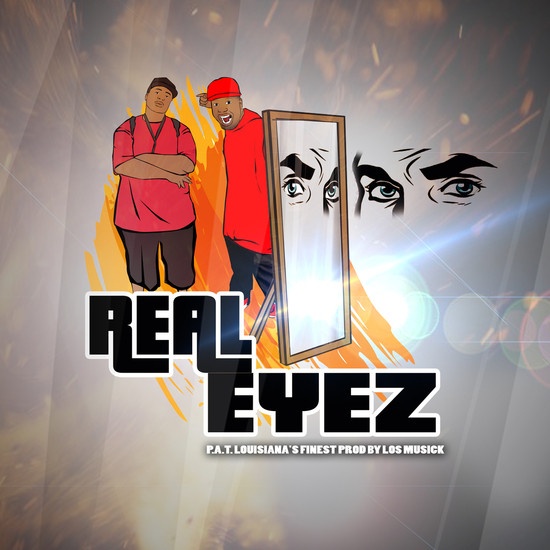 I am very happy to announce that there is absolutely nothing unoriginal about these artists and this track. Unlike the low quality that overruns the mainstream market, P.A.T. Louisiana's Finest & Los Musick offer high quality music to listeners with no cheesy gimmicks. "Real Eyez" is produced by Los Musick of Los Musick Productions, (LMP), where "every beat is hand-crafted and authentic". LMP stands by its artists and stands by its music where "originality is the key to success". P.A.T. Louisiana's Finest with "Real Eyez" stands true to that statement with a genuine sound & touch.
DSP – https://open.spotify.com/album/3rmZjUD3OzMpBSq1iQ24OS
&
https://music.apple.com/us/artist/p-a-t-louisianas-finest/902207174
It's time to be real and get real as P.A.T. Louisiana's Finest & Los Musick dare you to open your "Real Eyez" nice and wide! There's a catchy piano medley that kicks things off and then you get hit with a bangin' beat. The listener will also hear a dope flow, cool-as-ice rhymes, solid bass and a tough-as-nails rap style that pulls you in and appeals to your senses. I picked up on some thought-provoking lyrics as I could tell these two artists are spitting knowledge that is meant to be soaked in. Here are some examples: "Be real with yourself and you can be real with anyone else" & "They be running to the steeple when I show them other sheeple".
After taking in "Real Eyez", I can admit that P.A.T. Louisiana's Finest & Los Musick have put together a complete package of rhymes, beats & music that work, sound good and make sense. If you're sick of the same ol' BS/nonsense from Today's Rap world, then you want to take a long, hard look at "Real Eyez" and listen closely. Los Musick Productions firmly states that "we make melodies that feel good to the soul" and "Real Eyez" by P.A.T. Louisiana's Finest & Los Musick is a perfect example of this. Don't blink because you don't want to miss your chance to check out "Real Eyez" once and for all!
https://www.instagram.com/instapat/
https://www.instagram.com/losmusick/
By Jimmy Rae (https://twitter.com/2JRae)